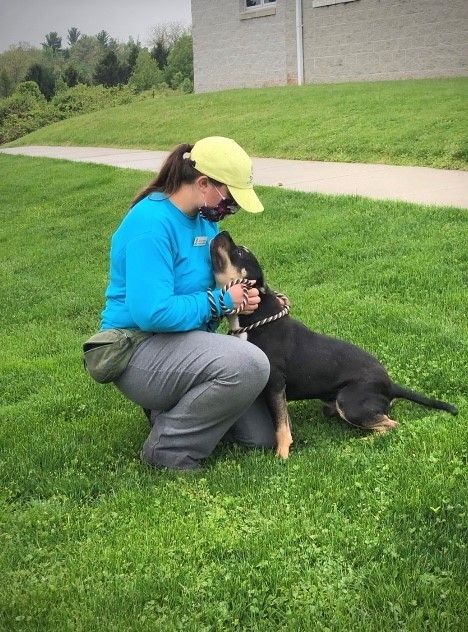 Since York County moved into the green phase, the York County SPCA is excited to watch its neighboring businesses reopen and community members return to their pre-COVID-19 activities. As the community settles into a new normal, so has the YCSPCA. The staff and volunteers are following numerous safety protocols to prevent transmitting the virus that causes Coronavirus 2019 within the shelter and to the public. Those safety protocols include the following:
The YCSPCA asks all visitors to notify us ahead of time if they are planning an in-person visit to the shelter. This includes appointments for adoptions and surrenders. Call 717-764-6109 to schedule your visit. Currently, we are not open for the public to browse adoptable animals. You can view all our available animals by visiting our Petfinder or Facebook page. Once you fall for one of our pets, we encourage you to submit an adoption application, and then give us a call to schedule an in-person meet-and-greet.
During our operating hours, we will have a large bin placed outside of the shelter for donations. Appointments are not needed to drop off donations.
Customers are required to wear masks or face coverings.
Business with the public will continue by appointment only. This includes adoptions and surrenders.
Whenever possible, public transactions should continue outside.
The shelter's modified business hours will remain in place. (Monday – Sunday, 8am-4pm)
Employees and volunteers must always wear masks, with four restrictive exceptions based on circumstances that could cause a possible safety risk to staff or volunteers.
Employees, customers, and volunteers must maintain a social distance of 6 feet whenever possible.
Employees will continue to self-monitor for COVID-19.
For in-person meetings and events, the YCSPCA will limit the number of people to allows all attendees to maintain a social distance of six feet. The YCSPCA will continue to prevent large groups from entering or leaving the building by staggering start and stop times. Employees will wash their hands at least every hour.
Assigned employees will clean and disinfect the building frequently, especially high-touch areas.
All employees or volunteers will notify their supervisor if they are sick and stay home.
By adhering to these protocols, the YCSPCA staff and volunteers have been able to continue our work while keeping the employees, volunteers, and community safe. We continue to rescue animals from harmful situations; provide them with daily care, enrichment, and medical treatment; and place them into loving homes. YCSPCA staff and volunteers are performing lifesaving work that is crucial to animal welfare in York County, and it is just as crucial to do our part in keeping our communities safe and healthy. Thank you for your patience and understanding.