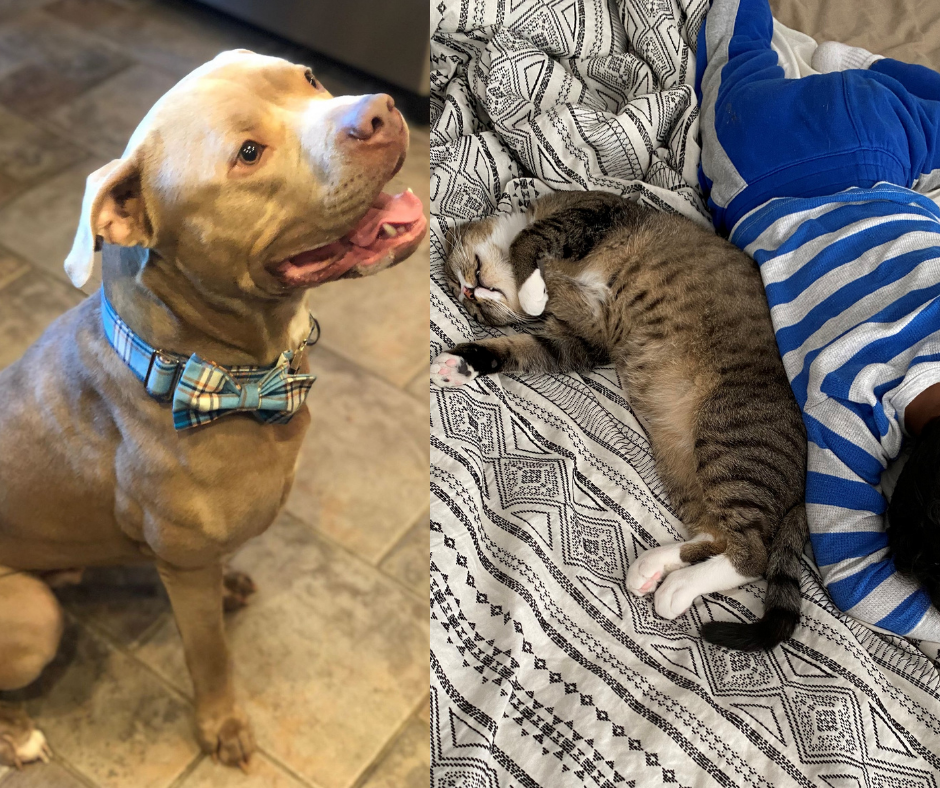 On March 16th, 2020, we made the incredibly tough decision to temporarily close the Brougher Companion Animal Shelter to the public. Following COVID-19 guidelines, we adjusted the York County SPCA daily operations to begin scheduling appointments for adoptions, surrenders, or stray intake. That necessary move allowed us to limit traffic in and out of the shelter, thereby protecting the health and safety of the staff and volunteers who have been continuing to care for the animals every day. However, we worried that adoption rates would drop, and that our shelter would quickly fill with animals unable to find homes.
Six months later, we can happily report that did not happen. In fact, in those months, we adopted out 310 animals.
We have always known that York County is a generous community dedicated to animal welfare, but we witnessed a new depth to its kindness during the COVID-19 pandemic. Community members reached out every day asking to foster, adopt, volunteer, or donate. Our plans for responding to decreased adoption rates transformed into plans for keeping up with increasing adoption inquires. Many of the families in our community grew a tail or two bigger, and we are deeply thankful for that.
Though, as more and more of our animals found their forever homes, it became clear that rescuing an animal was not the only factor driving adoptions. As the popular adage goes, "Who rescued who," we realized that it's not only animals who need humans. To live wholeheartedly, especially during times of crisis, humans need animals, too.
COVID-19 has many of us turning to the CDC for health guidance. The CDC also teaches us that pets can improve the health of their owners. According to the CDC, having a pet means companionship, opportunities to get outside and exercise, decreased loneliness and depression, and socialization. All of these have been put at risk since COVID-19. Social distancing, various levels of stay-at-home orders, travel restrictions, and the closing of fitness centers and other businesses have posed a threat to many people's mental and physical health. Where the pandemic has left voids in our well-being, animals come in to fill that space with love. Their physical rescue is our spiritual rescue.
We see this in the stories of those who have adopted from the York County SPCA during the COVID-19 pandemic. One example is Harrison. At the beginning of the pandemic, Harrison was our longest-term dog resident, having been at the shelter since October 2019. But then, Devin O'Connor stepped in. Here is what Devin said:
"While living in New Jersey in 2008, my wife Mandy and I made the fortunate decision of adopting a female Rottweiler/Pit Bull mix we named Joey. Mandy died in April 2015 from a rare cancer at the age of 31. My mom was diagnosed with breast cancer the morning after Mandy passed.
Joey played a critical role in my grieving process as well as my immediate family's, specifically my mom, who walked her daily.
Cancer would strike again. This time it was Joey, who was diagnosed with lymphoma in 2017 and died that same year.
It was only in 2020 that I decided I was ready for another four-legged pal. I fostered Harrison in March, just prior to COVID-19 changing our lives. Mr. Harrison, as we call him, immediately began what would turn out to be a very successful campaign for permanent residency. He has been such a joy during these challenging times and, living alone, has been the perfect companion for me.
I first decided to foster Mr. Harrison in response to Samantha Green at the YCSPCA explaining his situation. He's a sweet boy who simply doesn't thrive in the shelter setting. I could see the urgency on Ms. Green's face and saw her empathy for the big dude. I took him in, and after a couple days the Las Vegas oddsmakers felt there was little chance he would be going anywhere. Harrison was a foster fail!
Mr. Harrison is constantly happy. He wakes up each morning with an exuding excitement, as if he has a laundry list of tasks that need his attention, and he's eager to get to it. His happiness is infectious. My family jokingly texts, 'Is Harrison happy today?' And like the dude, I'm so very happy today, too." 
Harrison was not the only long-termer spreading infectious happiness during the COVID-19 pandemic. Many of our long-term residents, such as dogs Lady and Leesy and cats Midnight, Pinata, and Raccoon, were finally adopted into loving homes. Raccoon's adopter, Crystal Medrano, thought the timing was perfect. Here is what Crystal said:
"Raccoon is doing great! We all love him very much. He has truly become part of the family. The best thing about adopting Raccoon during this pandemic was the amount of time we got to spend with him. As a new pet coming into a new home, we knew that it was going to take some time for him to get used to everything and everyone. So, having us there basically 24/7, he was able to get accustomed to us a lot sooner.
He's such a sweet cat! Since the kids are out of school, they get to play with him all day and take naps with him. My youngest child says that Raccoon is his baby because he feeds him every day. At this point, this house is not a home without Raccoon. We love him very much." 
The COVID-19 pandemic has thrown drastic change into many of our lives. It's left us in a state of uncertainty as we attempt to adjust to a new normal. One thing remains the same – the unconditional love animals have to offer. In our ever-changing world, we can rely on the centuries-old bond between humans and animals, a bond that has only strengthened and expanded over time. As we move forward, our pets will continue to teach us resiliency, patience, perspective, and gratitude. What we will always know to be certain is that our homes are not complete without the unconditional love of our pets.
If you are considering adopting an animal, please visit our adopt section to view available animals, learn more information about the adoption process, and submit your application.