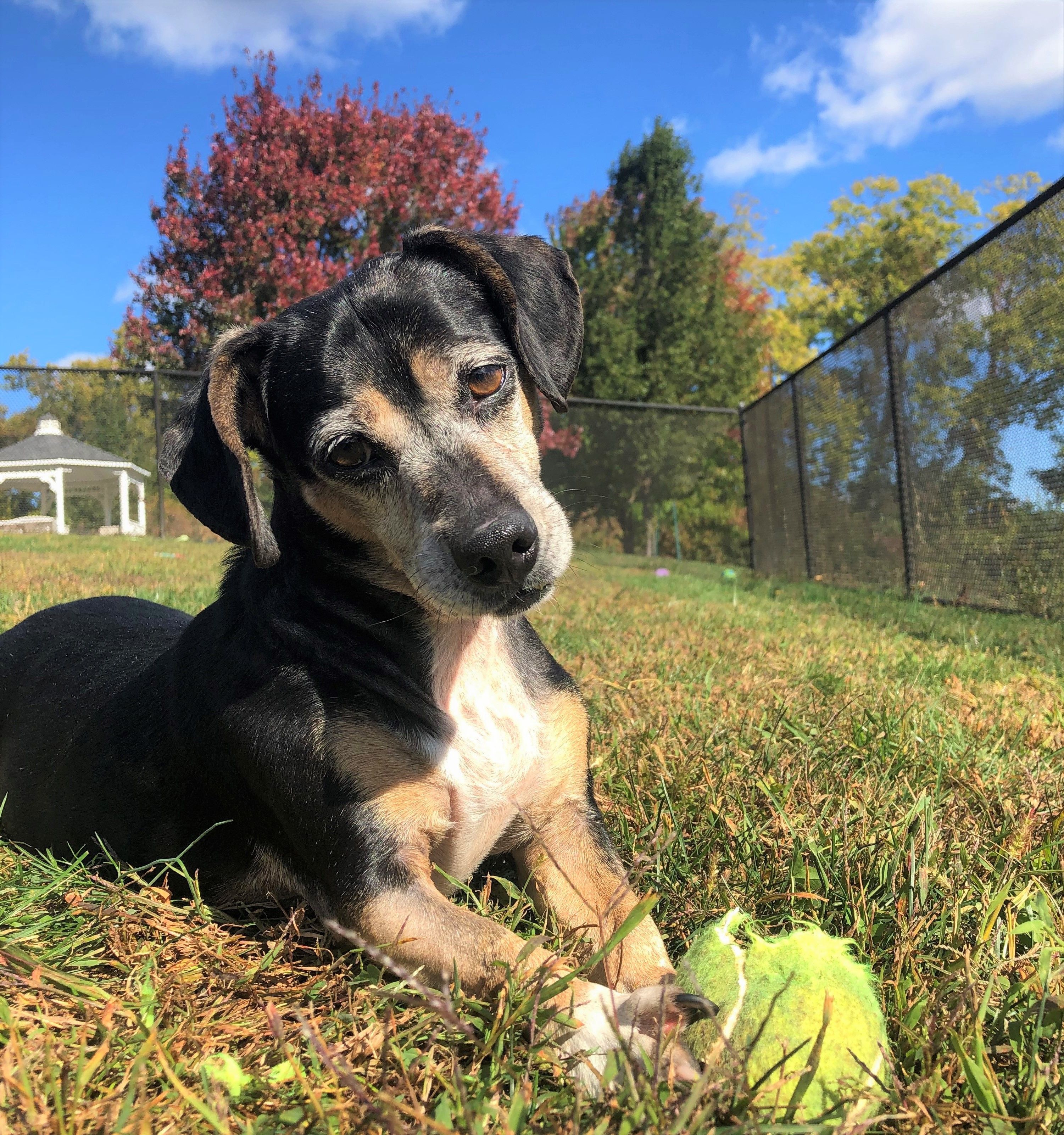 When you see Miracle today, she is probably rolling over for belly rubs, barking for attention, destroying a tennis ball, or standing on her hind legs, showing off for treats. There is probably a smile spreading across her grey face so big that you can hardly see the scars. You might wonder how a dog who has already lived three-quarters of her life is bouncing with joy and exuberance like the world is brand new. And if you sit with Miracle long enough, listen to her closely enough, you will know why. She is the embodiment of miracles.
In early September, a stray dog was found with blood streaming from her neck and in miserable pain, unable to move. A good Samaritan took her to the local animal emergency clinic, and the next day, our Field Services Agent was called to pick up the stray. The dog was suffering from extensive bite wounds covering her neck and chest. It seemed she had been bit by a much bigger animal, possibly a large dog or coyote. By the time she arrived at the York County SPCA, she was extremely ill, depressed, and weak. Our Shelter Medical Director said the dog was tremendously lucky just to be alive, but she was not sure the dog would make it through the weekend.
We scanned the dog for a microchip and found one. Unfortunately, the contact information filed to the microchip led to a dead end, and despite countless attempts to find her owners, nothing came back. All we could find was her name. Miracle.
The veterinary team performed extensive surgery to clean and suture Miracle's bite wounds. There were at least 12 punctures and lacerations. They placed drains on either side of her neck. Up until this point, Miracle had not made a sound, not even a cry or a whimper. She was still most of the time, needed to be carried and supported outside, and our animal care team questioned whether she would recover from what appeared to be a lifeless state. But despite her pain, Miracle kept her sweetness. Throughout every exam, procedure, and medicine administration, Miracle showed nothing but gentle kindness, even patience and perseverance. It might have been her way of telling us that she was going to fight, that she was not giving up hope – so we better not, either.
The day after Miracle's surgery, she began to change. She lifted her eyes more, perked her ears more, and was testing the strength of her paws. Soon, she began walking, eating normally, and expressing her personality with smiles and tail wags. Then, we heard Miracle bark. And once that sweet little Beagle Dachshund found her bark again, she made something very clear – she could not be quieted.
Miracle spent about two weeks healing in our veterinary wing. By the time she recovered, she was running laps around the play yards, tearing up toys, and making friends with everyone she met – human and animal. Her bark rang throughout the shelter and the trails. We had succeeded in keeping Miracle alive, and now, she was keeping the York County SPCA alive. Her enthusiasm for life is unmatchable. It is the kind that can only come from knowing you received a second chance, the kind that comes from believing in miracles.