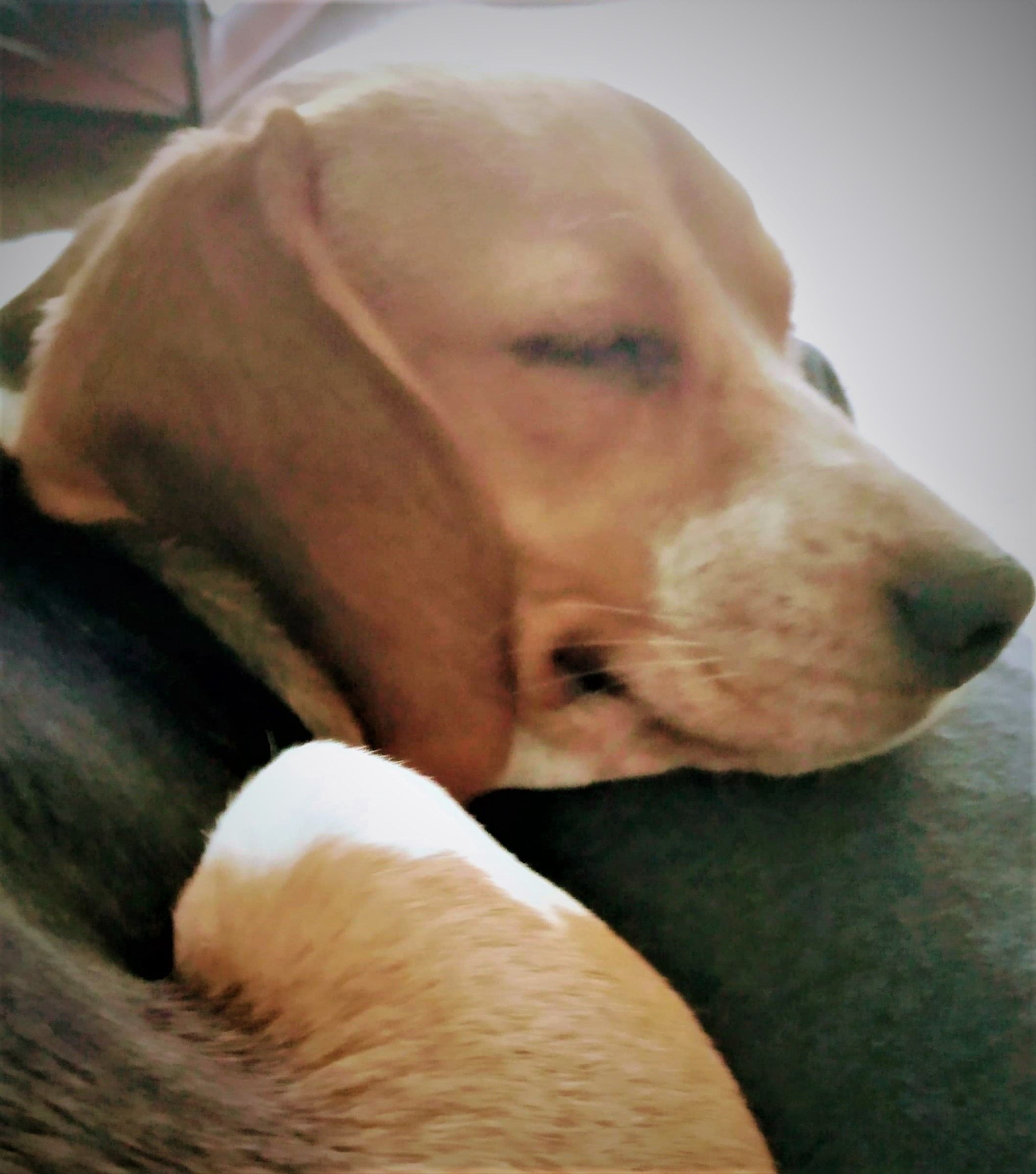 Sometimes, we have dogs who really embrace the best and not so best of their breed. If we cannot find a home for them within our adopter community, we call on fosters and rescue partners who specialize in that breed. Such was the case for our oh so special Miss Daisy...
Calling all beagle lovers!
Check out this sweet gal, Miss Daisy. As most of you know, this breed is intelligent and good tempered, makes great pets due to their size, and has very few inherited health problems. However, they are very headstrong, clever, active and on-the-go, and can, at times, be a bit full of themselves and hard to train.
This is Missy Daisy. Daisy was found as a stray on December 5th, 2020 and was made available for adoption on December 10th. She immediately had a number of interested potential adopters, and was adopted on December 19th. However, unfortunately, she was brought back to the shelter on December 21st. 

Stubborn breeds like this can often be hard to read or understand. After less than 48 hours in her new home, Daisy nipped an adult who she had just met for the first time. While this may sound concerning to some, it is not surprising that Daisy reacted out of fear to someone she did not know in a place that was still very new.
Transitioning into a home can be stressful, just as transitioning into the shelter is stressful. The environment can be hectic, tense, and can cause multiple misread mannerisms from animals that are exposed to these unfamiliar living conditions. Could you imagine being taken out of your home and placed somewhere that is both crowded and filled with strangers? As shelter workers, we are very familiar with this feeling, and we understand that most animals experience this during transitions. That is why we allow dogs time to decompress at the shelter before placing them up for adoption. Once adopted and in the home, decompression should still continue until you're familiar with your new pet. This will help both parties better understand one another. 

Despite being back at the shelter, Daisy was extremely happy to see us again. Sadly, she had to be quarantined for ten days because Pennsylvania law requires any animal bite to be handled with a ten-day quarantine period for that animal. When Daisy was in YCSPCA care prior to adoption, staff and volunteers never had any issues with her. We all observed a high amount of potential in this sweet Beagle girl and trusted that the perfect family was out there waiting. 

Since she was just over one year old, I wanted to place Miss Daisy in an experienced foster home to see what was really going on. That is when I called upon the "Beagle Brigade," Troy and Sue Eline, who are long-term fosters and own nothing but beagles and hound mixes. The Eline's have worked with us for years and helped us foster multiple stubborn, hard-to-read beagles. They are not just wonderful pet owners, but wonderful fosters as well! 

I felt it in my heart that young Daisy was simply full of herself and acting as a puppy with no formal training. So, the best chance she had was to immediately be placed in a breed-savvy home where she could be trained in a more comfortable environment. Troy and Sue brought one of their dogs in to do a formal meet and greet to see how she was with other dogs. Immediately, they hit it off! Running around, playing, and just being two fun, goofy beagles. 

On January 6th, 2021, Miss Daisy left for foster with the Elines. Soon after being in the home, Sue texted me to say, "I think the growling/aggressive bark the last owner described is just Daisy saying 'Hey play with me!' She also noted, "She can be a little bit of a handful, but nothing out of the ordinary for her age and breed."  When it comes to breeds that are more difficult to handle, we often look to a breed-specific rescue partner and place them with these specialized rescues. The potential adopters from these breed-savvy rescues are already prepared for the traits of working dogs, hunting dogs, guardian dogs, etc. Luckily for us, not only do the Elines foster for the YCSPCA, but they also foster for the beagle rescue BREW (Beagle Rescue, Education, and Welfare of Northern Virginia)!
After Sue and Troy had been fostering Miss Daisy for only four days, they quickly realized this young pup needed an advanced owner. BREW stepped in and allowed us to transfer ownership to them. By opening up Daisy's potential adopter pool to BREW's audience, Daisy is more likely to meet an adopter who will understand her traits and give her the best beagle life possible.

Now, Daisy is still living with the Elines and their houseful of hounds, getting whipped into shape for her future family! They continue to send updates and tell me how great she is doing awaiting her new family. One thing Daisy likes to do is get into the bathtub and hide. What a funny little girl! Miss Daisy's story demonstrates not only why we deeply appreciate and need our fosters and rescue partners, but also how some dogs were bred to possess their specific traits and quirks, and those characteristics are an inherent quality of the dog. They must be worked with and not attempted to work out of the dog. 

We wish the best to Miss Daisy on her future endeavors! And we send a HUGE thank you to our fosters and our rescue partners. Beagles are fun, but they may not be for everyone. Luckily, Daisy is able to have a dedicated foster family who is helping her reach her full potential!