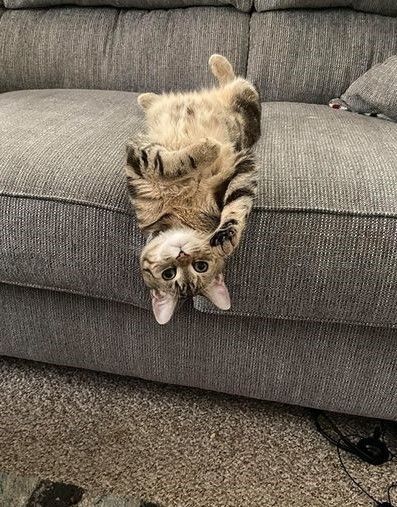 If there is one good thing that resulted from the pandemic, it's that animal adoptions skyrocketed. Both at the York County SPCA and throughout shelters around the nation, adoption rates spiked and we were able to nearly clear the shelters. With that spike came the widespread concern that, once "things returned to normal," countless animals would be returned to the shelter. Recently, several reports of animal surrenders and returns have sparked fear that this concern was coming true.
However, the York County SPCA and abc27 are delighted to report that this is NOT the case for us and other Pennsylvania shelters. In fact, in the period from January 1st to May 11th in 2020 (pre-pandemic and several months into COVID-19 restrictions), we took in 36 animals returned to the shelter after adoption. In that exact same time period in 2021 (well into the pandemic), we have seen only 24 returns - a 30% decrease.
One thing we can learn from that is that the pandemic may have actually helped to prevent returns. By adopting an animal during the "shutdown," you are adopting during a time when you are home more frequently and for longer periods of time, you have less distractions, fewer new people are coming in and out of your home, you may be somewhat isolated and feeling the collective loneliness, and you are seeking companionship. All of this not only helps the animal to adjust to their new environment more easily (a frequent cause of return to the shelter is lack of adjusting to the new home), but it also strengthens the bond you build with your new pet immensely.
What we know now is that the majority of our adopters who brought an animal into their home early in the pandemic have spent the last 14 months loving that animal as deeply as they love their other family members. It's been a time for shelter adopters and adoptees to mutually lean on one another for support, both seeking connection and comfort, both sharing what they have to offer and receiving love from the other. It's been a time for humans and animals to bond in ways they didn't see coming.
Like Lady. In March 2020, Lady had been at our shelter for nine months. She wanted nothing but snuggles and affection and would sit on your lap giving kisses all day if you let her. Her smile brightened up the entire kennel and the staff and volunteers would visit Lady just to have their spirits lifted. But our divine senior did not get along with other dogs and cats and, therefore, struggled to be adopted...until the pandemic. That March, just weeks into the virus causing our shelter to temporarily close to the public, Lady met Frank. Frank fell in love with Lady as quickly as we had, and he adopted her immediately.
Shortly after adoption, Frank said, "Having Lady in my life...she's definitely showing me what unconditional love is, and is teaching me to be patient and consistent. She's also shown me what it is like to be vulnerable. It's pretty amazing – in just a month, we've blossomed into better companions for each other. I am very grateful for Lady coming into my life because she's teaching me so much about the little things in life. I recommend anyone to adopt an amazing animal from the SPCA because you're making animals happy, and they, in turn, give their love and devotion to you."
Now, Frank regularly brings Lady into the shelter for visits with her old friends, and we relish in the Lady therapy. They visited us last month to celebrate Lady's one-year anniversary in a home.
So, we think it's safe to advise to not fear for animals being returned to their shelter. Like Lady, pandemic pets have filled a need for connection and love more abundantly than their adopters could have predicted, and there's no chance their parents are giving that up.
And don't just take it from us, check out what abc27 has to say, too, in their article, "Defying predictions and anecdotes, Midstate and national pandemic pet shelter surrenders are down, not up."
Thank you to everyone who has adopted from and supported the York County SPCA during the COVID-19 pandemic. You mean the world to us and to all the animals in our community.