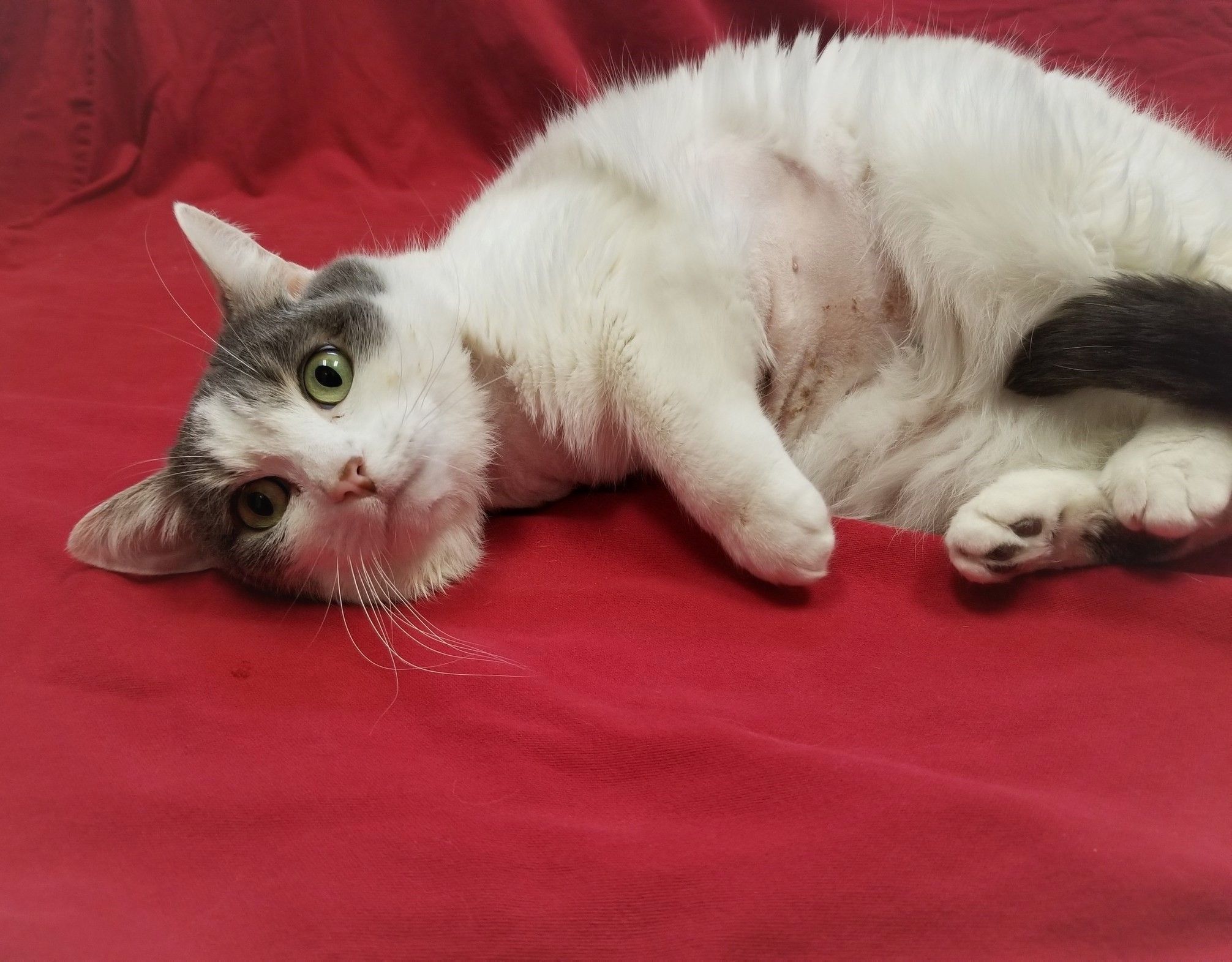 Neko is a six-year-old female cat who came to us a few days after Valentine's Day. But Neko was unphased by the holiday.
She arrived not wanting to show anyone love or affection. We could tell right away that Neko was in a lot of pain, and she would not walk on her right front leg. We started her on a pain medication to give her some relief and performed an examination. During her exam, we found that her right elbow was severely affected.
She had a large boney mass around her elbow that made it impossible to straighten out the arm. Her elbow joint was permanently fixed at a bent angle. On Neko's x-ray, we could see that the bones on both sides of the elbow joint were very abnormal, showing changes consistent with cancer. No wonder she was so upset when she came to us!
We scheduled Neko for surgery right away. In order to remove all of the abnormal bone from her body, she needed an amputation of her right front leg. Chest x-rays were done prior to surgery to ensure nothing had spread to the chest. Those looked clear, so we moved forward with her amputation.
The procedure went well, and she has been recovering nicely since. In order to get an answer of what was causing the changes in her leg, everything was sent for a biopsy. 
Neko's biopsy came back as a soft tissue sarcoma; specifically, a myxosarcoma. Myxosarcomas are a malignant (cancerous) tumor that are rarely observed in veterinary species, making Neko a one-of-a-kind lady. Although these tumors are cancerous, they tend to only be locally invasive (grow in one spot) and do not often spread. Surgical removal with good margins, which was Neko's case, tends to be curative.
Neko is a completely different cat from when she initially arrived. We are now able to interact and even play with her. It is not clear how long she was living with the discomfort of that tumor, but it is very clear how big of a toll the pain was taking on her physical and mental wellbeing. If you are looking for a rare, one-of-a-kind girl to join your family, please give Neko a chance. She most certainly deserves to live out the rest of her pain free life in a loving home.