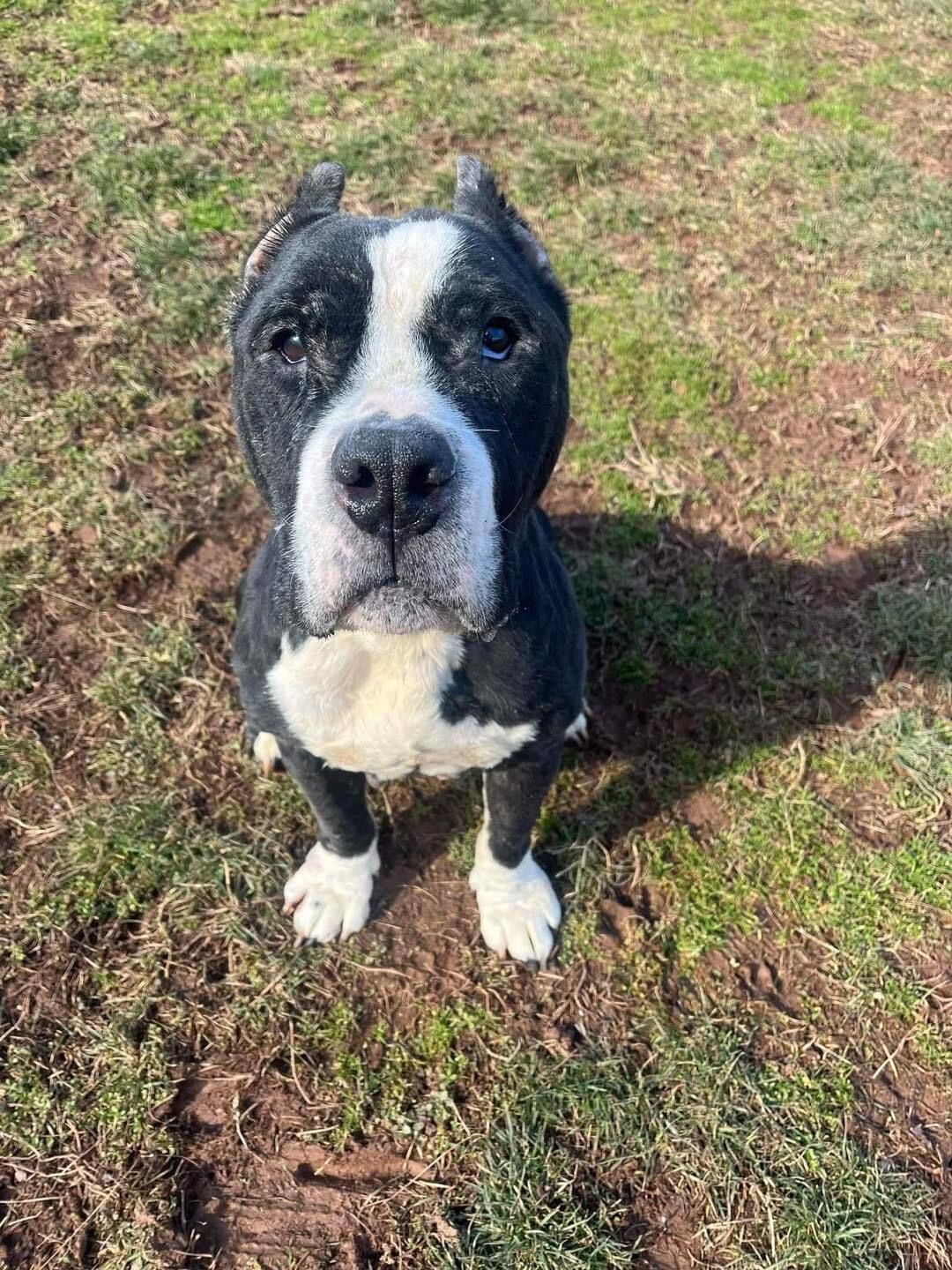 Marrah, a black and white Pit Bull mix, has quite the story of resilience to tell. When we intake stray animals, we can never know what has led them to us or what their past looked like. When Marrah arrived in late January, she was estimated to be around seven years old. She had a sweet temperament but a severe skin infection. The condition of her skin was so bad our veterinary team was unsure whether she may be suffering from an uncommon type of skin cancer. She was also underweight and missing a lot of hair.

Our veterinary wing staff, directed by Dr. Weekes and Dr. Ritchey, immediately started her on a regular routine of antibiotics and medicated baths to soothe her skin infection. She improved dramatically, leading our staff to believe that the severity of her skin condition was likely from neglect, not an underlying condition. Marrah likely endured many years with no veterinary treatment, and as a result, her skin and ear canals became thickened and inflamed.

In addition to her skin issues, Marrah showed signs of giving birth to multiple litters of puppies. Our vet staff found she had a high-grade heart murmur and mammary masses that required removal and biopsy. Luckily, the results of the biopsy found the masses to be noncancerous. She would have been significantly less likely to develop her mammary masses had she been spayed at a younger age.

With a lot of encouragement and care, the marvelous Marrah has made a wonderful recovery through her medicated baths and regular feedings to restore her weight. Due to her medical history, our team knew she would thrive in a committed foster home or rescue. This would provide her a soft place to land and space to heal for the time being.

Speranza Animal Rescue in Mechanicsburg graciously offered to have Marrah transferred to their rescue and rehabilitation center. Marrah arrived at Speranza in late February after a month of being in our care. Speranza was able to help Marrah find the perfect foster home to allow her to decompress in a home environment and be spoiled with lots of love!

In her new foster home, she has human and four-legged siblings, who are eager to give tons of cuddles, love, and treats. Marrah's skin and coat are healing beautifully, and you would never know she was the same dog brought to us in January. Marrah's story shows us that with intention, time, and care, an animal can have a complete life transformation for a hopeful future ahead. A special thank you to Speranza Animal Rescue and Marrah's foster family for partnering with us on her journey.