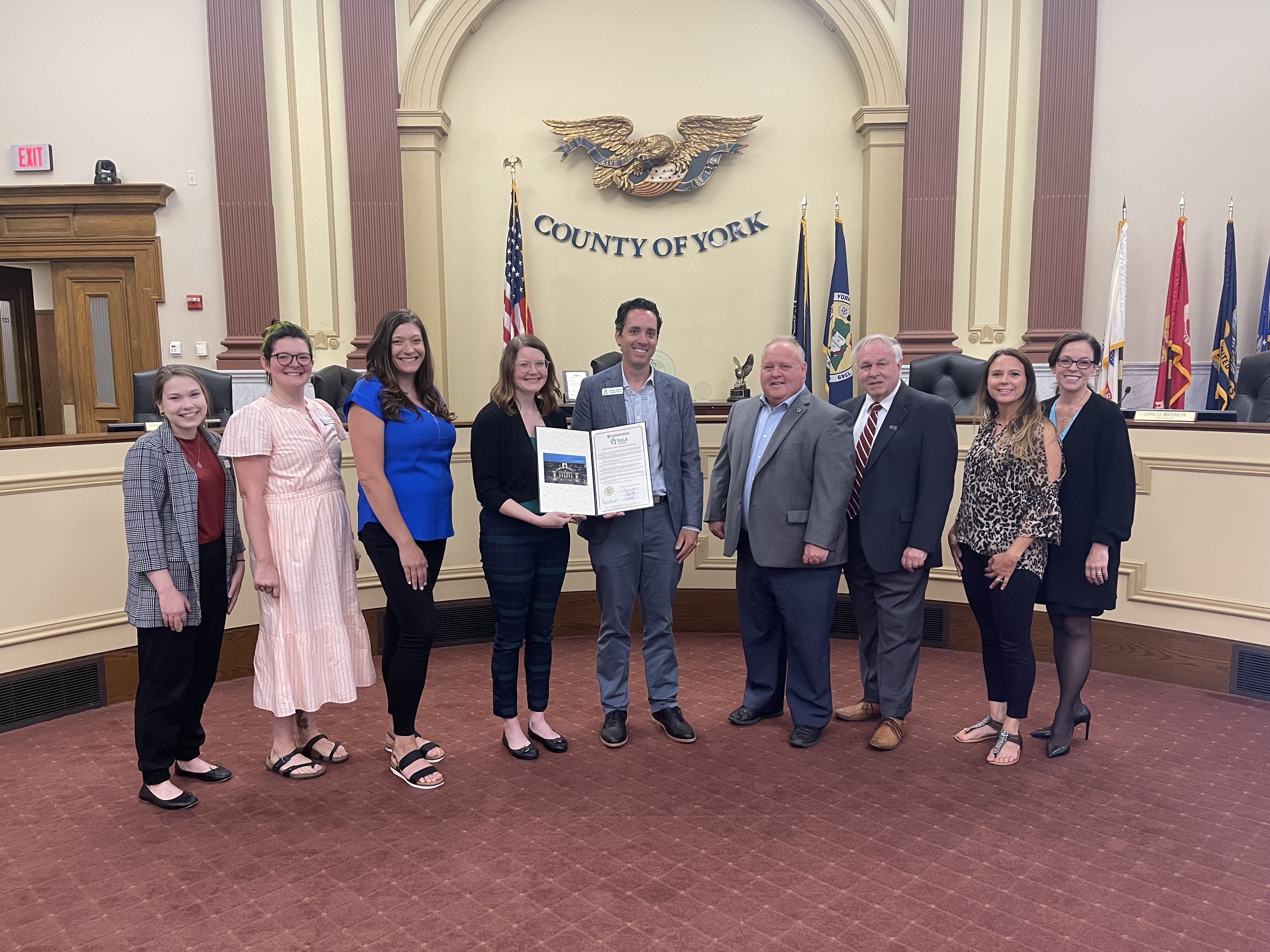 Pictured left to right: Rachel Ritchey, Content Creator, Kristen Dempwolf, Communications Director, Brett Knickel, Veterinary Operations Manager, Dr. Kimberly Mann, Clinic Medical Director, Steven Martinez, Executive Director, Ron Smith, York County Commissioner, Doug Hoke, York County Commissioner, Nastasha Rohrbaugh, Chief Deputy Controller, Julie Wheeler, York County Commissioner
---
On July 5, the York County SPCA's high-volume, low-cost spay/ neuter clinic was recognized during the York County Commissioner's meeting for ten years of service to the York County community.
The York County SPCA is home to the largest high-volume, low-cost clinic dedicated exclusively to spay/neuter surgeries in York County. The work of the spay/ neuter clinic is a critical component of how the YCSPCA achieves its mission to serve York County people and pets. In 2015, Dr. Kimberly Mann joined the YCSPCA as a clinic veterinarian and later became the Clinic Medical Director. Supporting her, and leading the team of veterinary technicians, is Veterinary Operations Manager Brett Knickel, who joined the YCSPCA in 2021. Under their leadership, the clinic has continued to shatter records each year for the number of surgeries their team performs and the impact they are having on the lives of animals in York County.
The spay/neuter clinic was built in 2012-2013 and officially opened to the community in July 2013. The veterinarians and veterinary technicians working in the clinic at that time were sent to the Humane Alliance in Asheville, NC, a high-volume clinic that provides training for veterinary staff in high-volume spay/neuter techniques and mentors new clinics.
"Since its inception, I was an advocate for this project, while on the previous York County Board of Commissioners," said York County Commissioner, Doug Hoke. "The spay/ neuter clinic addresses a vital need for our community, and it is amazing to see what Dr. Mann and her team can accomplish."
Since opening its doors, the clinic has performed more than 75,000 spay/neuter surgeries. Last year alone, the clinic performed a record-breaking 10,021 surgeries. 6,298 of these surgeries were on community cats. This milestone puts the YCSPCA Spay/Neuter Clinic in the top 0.2% most productive spay/neuter clinics in the country. An aggressive spay/neuter program, like the one at the YCSPCA, is the only proven, humane way of decreasing pet overpopulation. In 2022, the spay/ neuter clinic administered 8,170 rabies vaccines. This is a disease that can be deadly to humans if contracted. These services save countless lives and create a safer, healthier, and happier life for animals and people alike.
"The ability to access high-quality, low-cost services like spay/ neuter surgeries, microchipping, and vaccination makes a lasting impact for York County pets and their families," said President Commissioner, Julie Wheeler, "The York County SPCA's Spay/Neuter Clinic sets us apart from communities across the Commonwealth and is something we should all be very proud of."
The York County SPCA Spay/ Neuter Clinic operates five days a week and provides walk-in Trap Neuter Return services, Monday through Thursday. More information about the services they provide, procedures, and appointment scheduling are available here.