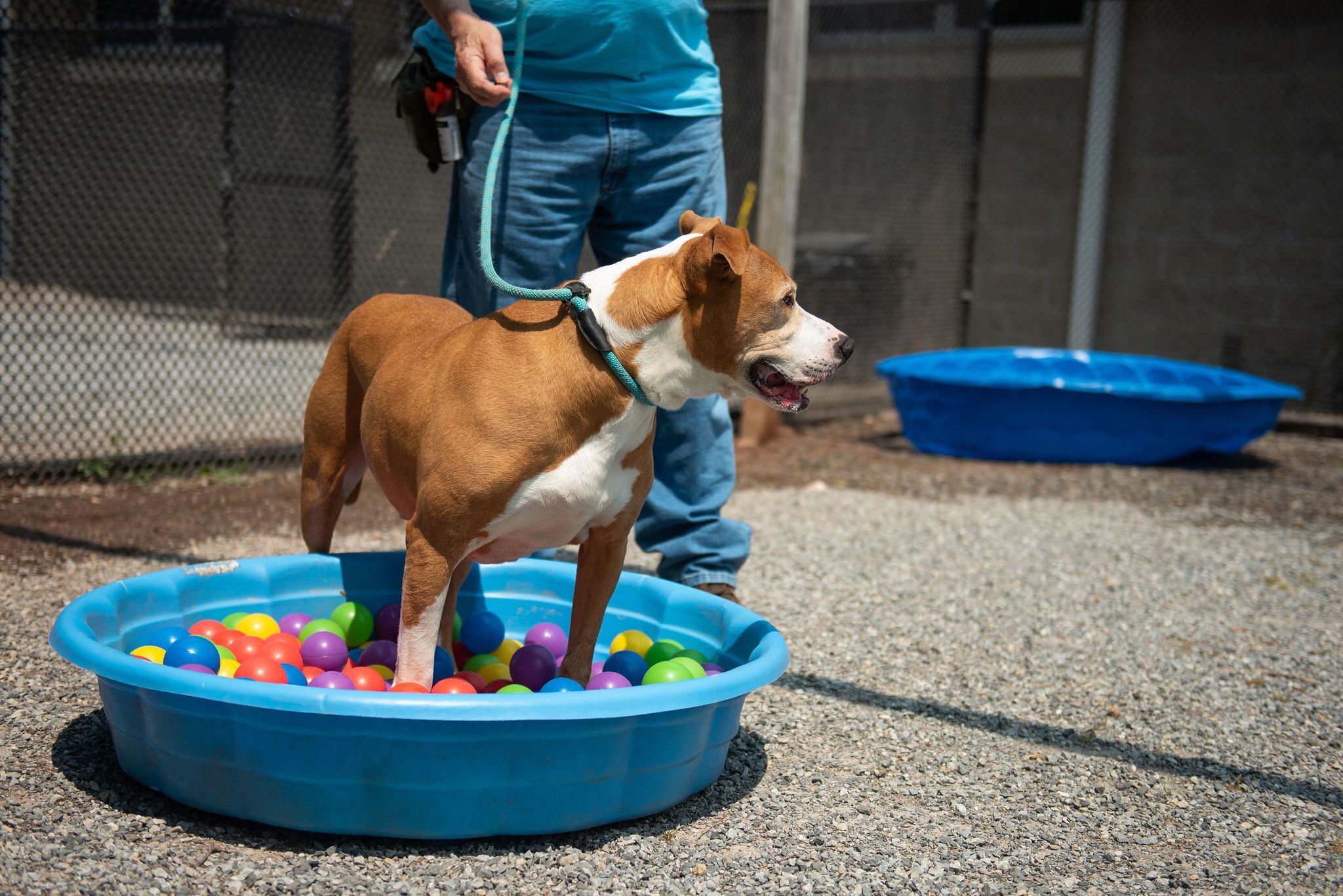 Summertime is officially here which means more opportunities for canine enrichment for both our shelter pups and your pup at home! According to Happy Dog Training based in Southern California, canine enrichment is defined as "modifying a dog's environment to improve its quality of life." With this definition in mind, our kennel staff and volunteers are innovative in thinking of ways to stimulate the minds and senses of our dogs. Canine enrichment combats the stress and anxiety many dogs experience in our shelter. This needed mental stimulation helps keep them safe and happy while they await their forever homes!
Here are four canine enrichment activities we perform at the shelter that you can do at home with your own furry friends:
---
Makings Kongs
Photo credit: Kong Company
Supplies:
• An empty Kong©
• Kibble or dry dog food
• Wet dog food
• Rubber spatula or rubber gloves
• Funnel and large scoop
• Baking tray (if making multiple Kong© treats)
Instructions:
Fill the empty Kong© with dry food (either with funnel or scoop by hand).
Plug the top of the Kong© with wet food.
Place the Kong© in the freezer (and if making multiple, place them on a baking tray in the freezer to keep them upright).
Once frozen, take out and give to your pup to enjoy!
---
Muffin Tin Activity
This activity stimulates the mind and the senses, helping your dog perform nose work and learn how to problem-solve!
Supplies:
• Empty muffin tin (preferably metal)
• Your dog's favorite treats
• Plastic or tennis balls
Instructions:
Place treats in most of the tray slots, leaving a few empty.
Place plastic/tennis balls in each slot, covering the entire tin.
Set the muffin tin on the ground for your pup to search and sniff out the treats under the balls.
---
Cool Off in the Pool
Note: For their safety, always supervise your dog with any water-related activity. Never perform this activity outside in extreme heat or humidity.
Photo credit: Dawn J. Sagert/The York Dispatch
Supplies:
• A plastic baby pool (sold at most grocery and general merchandise stores)
• Water to fill the pool
• An assortment of waterproof dog toys or tennis balls

Instructions:
Place your baby pool outside and fill it three-fourths of the way with cold water.
Add waterproof dog toys or tennis balls to the pool water.
Encourage your dog to play with or retrieve the toys. Bobbing for toys is a great way to keep your dog engaged with the pool! The water will help cool them off in the summer as well!
Tip: You can also include ice cubes or frozen treats for added fun!
---
Frozen Dog Treats
Photo credit: Dawn J. Sagert/The York Dispatch
Supplies:
• Ice cube tray
• Dog-safe peanut butter
• Banana
• Water

Instructions:
Remove the banana peel and chop your banana into small pieces.
Add a few banana pieces and a tablespoon of peanut butter to each section of your ice cube tray.
Fill the rest of the way with water and place in the freezer.
Once frozen solid, allow your pup to find the banana pieces within the sweet treat. This treat is a great source of potassium and protein for them!