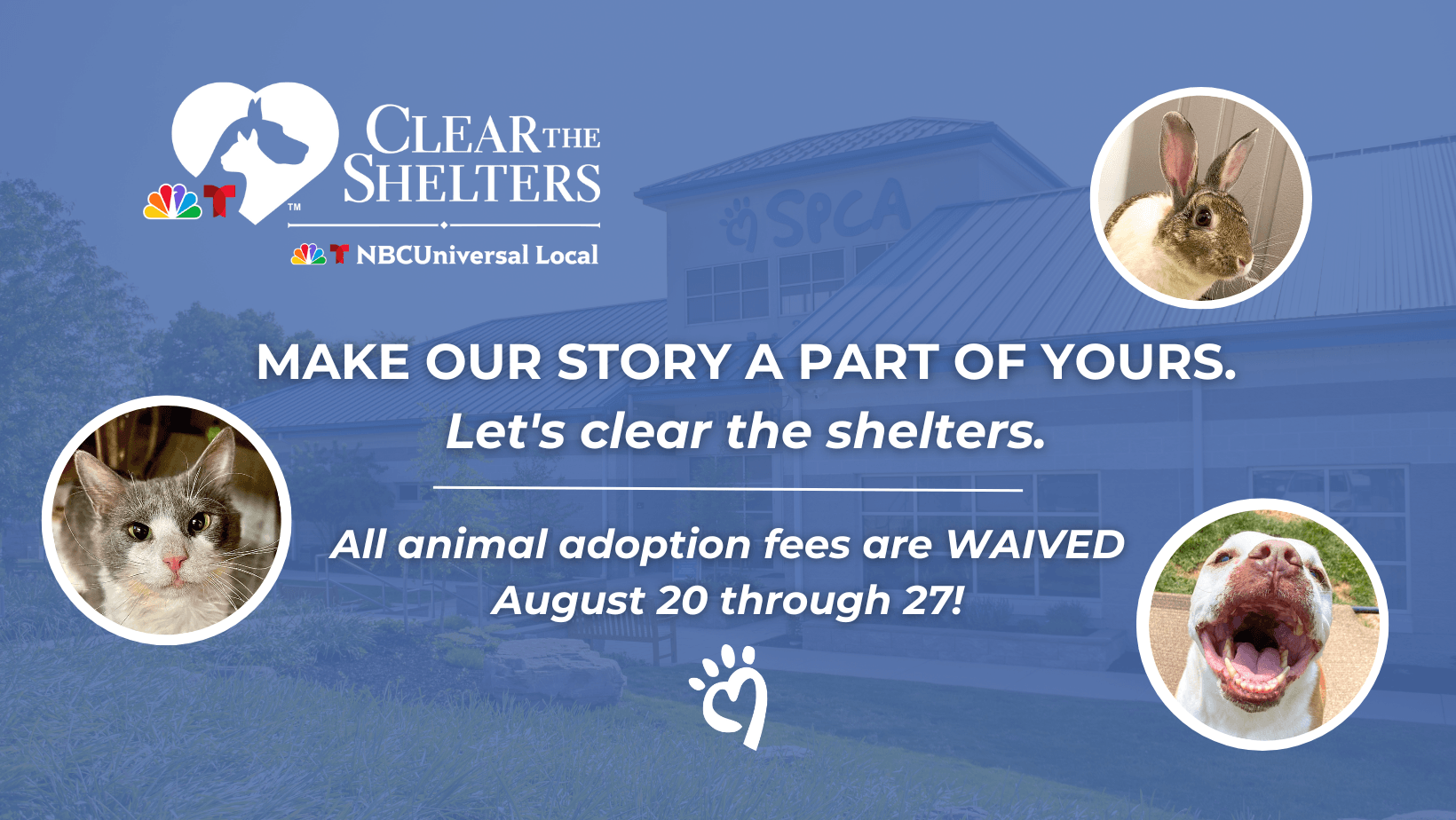 ALL ANIMAL ADOPTION FEES WILL BE WAIVED AUGUST 20 THROUGH 27!
In honor of National Clear The Shelters Month, in partnership with NBCUniversal Local, we will be hosting a week of WAIVED adoption fees for all animals! Yes, this includes dogs, cats, and small animals!
Clear The Shelters is a national movement with hundreds of shelters across the country to host a nationwide pet adoption and donation campaign that helps find loving homes for animals in need. More than 860K pets have found their forever homes since 2015.
In honor of this movement, we will be holding six adoption events all week long that will take place at our shelter unless otherwise indicated for Petco. Here are the details for our adoption events. Please visit our Facebook page for more details and to RSVP. We will be posting featured animals who are looking for their forever homes.
---
Clear The Shelters Adoption Events
Sunday, August 20: Dog Adoption Event (11 am – 4 pm)
Tuesday, August 22: Cat Adoption Event (11 am – 4 pm)
Thursday, August 24: Cat Adoption Event (5 pm – 7 pm)
Friday, August 25: Small Animal Adoption Event (11 am - 4 pm)
Saturday, August 26: Cat and Small Animal Adoption Event (10 am - 2 pm) at the East York Petco: 2420 Eastern Blvd, York, PA 17402.
Sunday, August 27: Dog Adoption Event (11 am – 4 pm)
---
All other adoption protocols remain in place, including submitting adoption applications, scheduling meets, etc. If there is an animal you are interested in, you can apply for them by visiting their adoption profile on our website or by scanning the QR code on their kennel or cage card at our shelter.
Once you submit your application, please allow our client services counselors up to three days to review it and reach out to you. Once approved, they will work with you to schedule a meet with the animal (and other family members and dogs in the household for dog meets).
The length of our normal adoption process from start to finish is between three and four days on average, so it is important to fill out a general animal adoption application at www.ycpsca.org/adopt as soon as you can to become a pre-approved adopter for our adoption events. Once your application is approved, it remains good for one year.
To view all of our AVAILABLE animals, visit our website https://ycspca.org/adopt/.
Don't forget about our public browsing hours every Tues, Wed, Thurs, and Sat from 10 am to 2 pm!
Let's #ClearTheShelters!