Community Conversations: Demystifying Animal Welfare Practices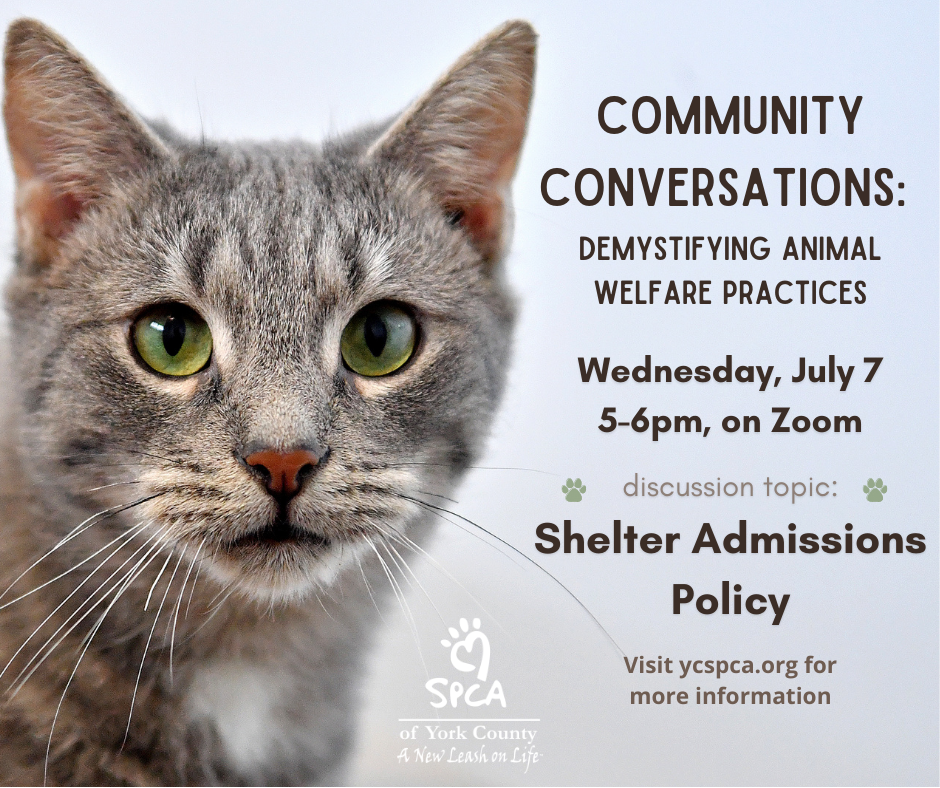 In July's Community Conversation, we will talk about the York County SPCA Managed Shelter Admissions Policy. This policy outlines our protocols and process for accepting animals into our shelter.
Think: What does it mean to be an open admission shelter? What species of animals do we accept in our shelter? What do you do if you see an animal roaming around? When do you bring an animal to our shelter verses "leave it be"? What is Trap-Neuter-Return and how does the program work (and how much does it cost)? If I bring an animal to the shelter, will you euthanize it? What should I think about before surrendering my pet to your shelter? What happens to pets once they are surrendered? How many animals get surrendered or returned to your shelter each year? What is the average length of stay for an animal at your shelter? How does the York County SPCA control pet population growth rates? What steps do we take to ensure a healthy population of shelter animals? How do we avoid an overcrowded shelter?
These topics and others will be covered, plus we will answer your questions.
You will learn from and engage with the following panelists:
Kari Herchelroth, Operations Director
Steven Martinez, Executive Director, YCSPCA
This meeting will function similarly to a town hall. You will have the opportunity to ask questions to our panelists related to the topic of Shelter Admissions Policy. However, if you send us your questions prior to the meeting, we may be able to provide more thorough answers. So, please use the questions box in your registration to submit any questions you may have, and we will answer as many as possible. You may also email questions to community@ycspca.org.