Home for the Holidays: Dog Adoption Event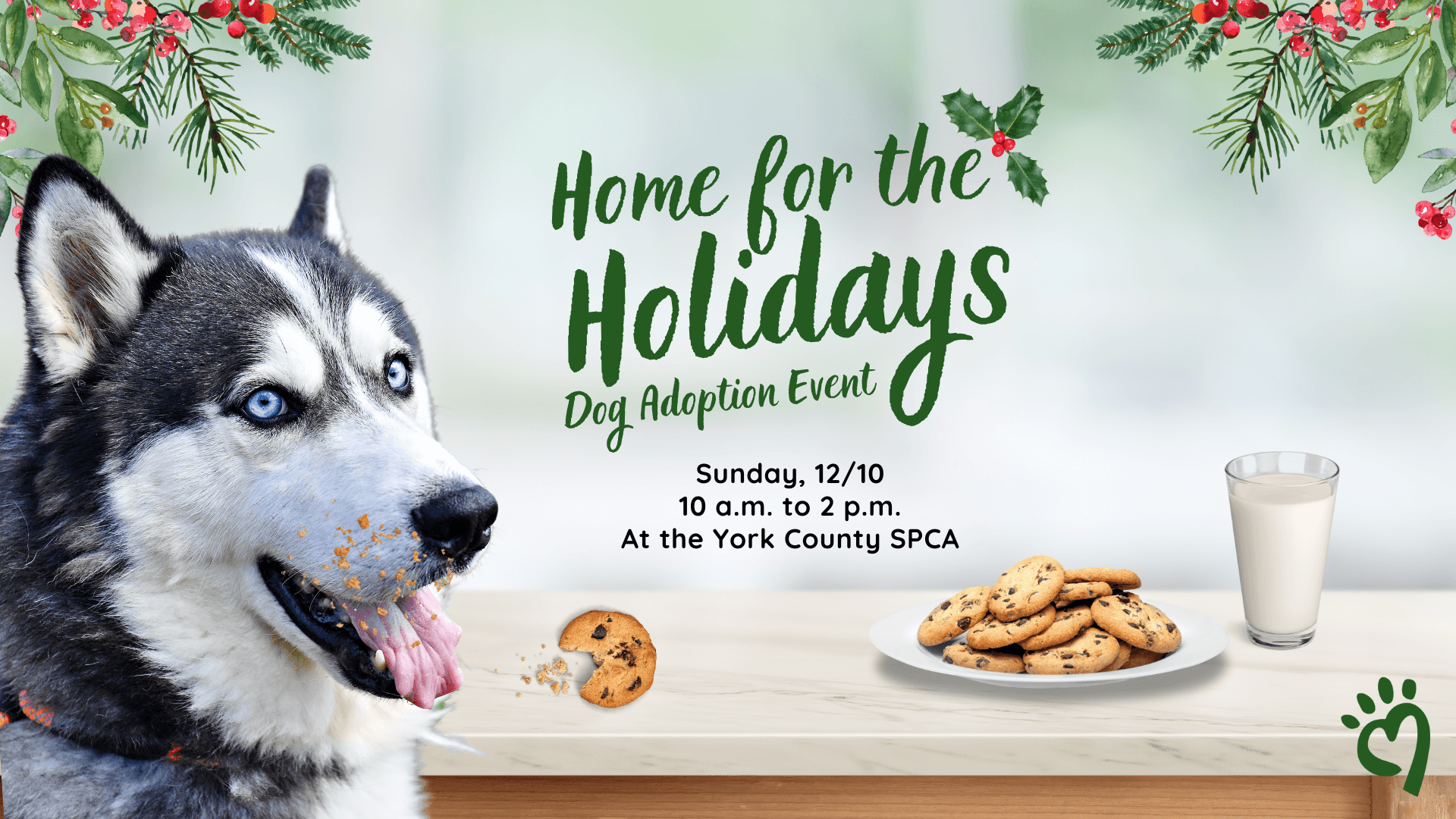 Give the gift of love this holiday season! Join us for 'Home for the Holidays,' a heartwarming dog adoption event at the York County SPCA. Help make tails wag and homes merry.
Join us on Sunday, December 10 from 10 a.m. to 2 p.m. at the Brougher Companion Animal Shelter located at 3159 N Susquehanna Trail, York, PA 17406.
!! READ THE FOLLOWING IMPORTANT INFORMATION IF YOU ARE INTERESTED IN ATTENDING !!
• Please complete a general dog adoption application HERE -> https://www.shelterluv.com/matchme/adopt/YORK/Dog at least THREE DAYS IN ADVANCE of the event to allow our staff to have ample time to review it and pre-approve you.
• All adoptions will be $25 off the adoption fee. Any dog that is considered a "long-term kennel resident" (in our care for over three months) will have a WAIVED adoption fee.
• Bring all canine and human members of your household to meet our pups! All dogs must have a collar and be ON A LEASH. **PLEASE NO RETRACTABLE LEASHES IF POSSIBLE – for the dog meets, slip-lead leashes are preferred.** When you arrive, we will have a welcome/check-in table where you will stop first PRIOR to browsing the kennel and retrieving your own dog(s) from your vehicle. Please leave your dog(s) in your vehicle until you are ready to grab them for a meet. Or, you may walk them around in the grass areas to the right of our building until they are ready for a meet.
• PLEASE BRING YOUR OWN COLLAR AND LEASH IF YOU PLAN ON ADOPTING A NEW DOG! We have limited available for purchase.
• If you are interested in more than one dog, please have a list of your TOP 4-5 DOGS in mind so our staff can better assist you. You will be able to walk through the kennel to see our available dogs!
• Once you enter the shelter, we will have staff and volunteers there to assist you. Most dogs will be available to go home on the day of the event. However, some may require pick-up on another day if the dog still requires vaccinations, spay/neuter surgery, and/or necessary medical treatment. Please be patient with our staff and volunteers.
• Cashless payments ONLY (for purchasing dog licenses, collars, leashes, etc.).
• To view all our available dogs, visit our website HERE -> https://ycspca.org/adopt/available-dogs.html
• Please consider making a lifesaving donation with cash or card during this event to support the dogs in our care.
Paws and reflect on the joy of the season! Give a furry friend the gift of a forever home - because every dog deserves to be 'Home for the Howl-idays!'