Community Conversations: Demystifying Animal Welfare Practices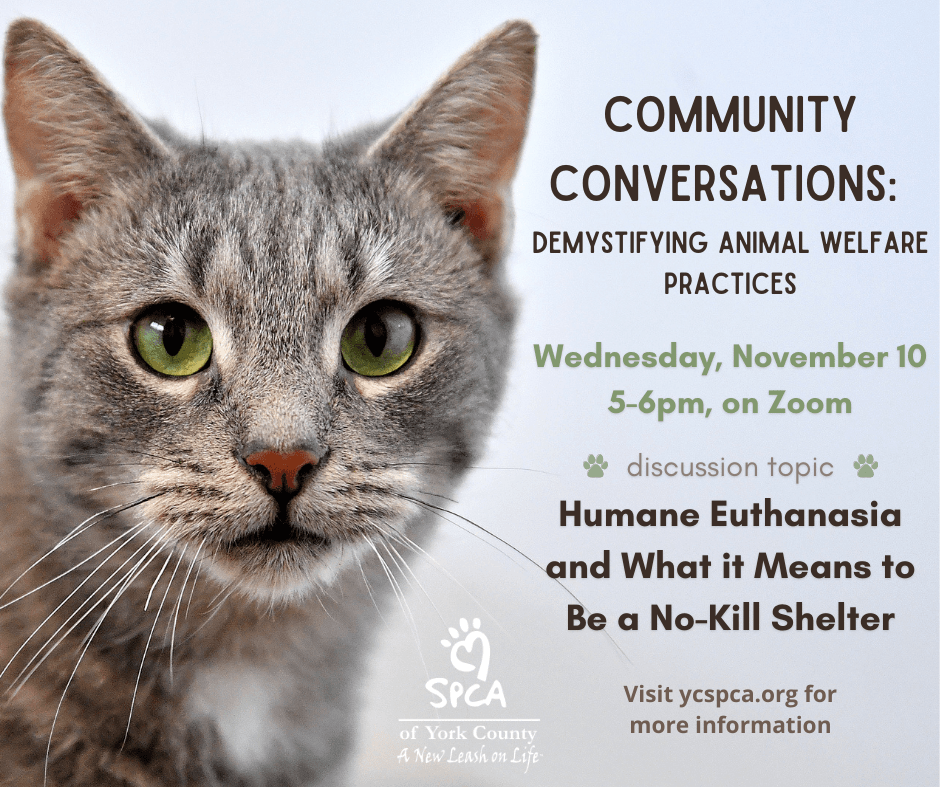 What does it mean to be a no kill shelter (hint, nearly all no kill shelters humanely euthanize animals)? Who classifies a shelter as no-kill? What is the no-kill methodology and who holds shelters accountable? What is humane euthanasia? Do you euthanize animals that have been in the shelter too long? Do you euthanize an animal for bad behavior? What are our euthanasia rates? What is our save rate?
These questions and others will be answered in our Community Conversations on Humane Euthanasia and What it Means to Be a No-Kill Shelter. This free event take place Wednesday, November 10th, 5-6pm.
In-person attendance at the York County SPCA Brougher Companion Animal Shelter is open to 10 guests. Please email community@ycspca.org to attend in-person. We are limiting in-person attendance to meet social distancing guidelines.
Other attendees may join the conversation virtually via Zoom. Please register at https://ycspca.org/.../november-community-conversation.html to be emailed the Zoom link.
This meeting will feature the following panelists:
- Steven Martinez, Executive Director of the York County SPCA
- Dr. Natalie Weekes, Shelter Medical Director of the York County SPCA
- Audrey Lodato, Senior Strategist in the Northeast of Best Friends Animal Society
Learn more about Community Conversations on our website: https://ycspca.org/news-events/community-conversations.html See less