April showers bring more than flowers...
They bring kittens, too!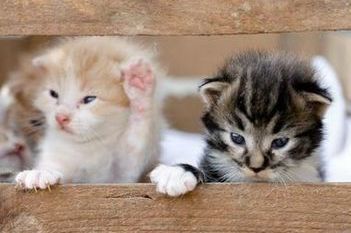 Help save an orphaned kitten's life by donating items to our Kitten Shower! Your donation will go directly to a York County SPCA kitten foster who relies on these items to provide critical care to infant, homeless kittens. View our Kitten Shower Registry to donate and give life back to a needing kitten in our community.
Every year, beginning in March, we begin taking in countless kittens who have been separated from their moms. In the animal rescue world, we call this "kitten season." Many momma cats begin giving birth to their litters around March (though this happens all year round), and inevitably, some kittens will become separated from their mom. With the help of kind community members, these lost babes will find their to the York County SPCA or another animal shelter. 
Unfortunately, kittens who are very young and underweight do not thrive  in the shelter environment for several reasons. First, their little bodies have not yet built a strong enough immune system to fight off common shelter illnesses, such as upper respiratory infections. Second, young kittens require round-the-clock care, and many shelters lack the resources to provide 24/7 attention.  
This is where our fosters come in. We rely on fosters to serve as the stray kitten's mother, essentially, until the kitten is healthy enough to be adopted or come to the shelter. Our kitten fosters are remarkably dedicated, generous, and committed to their four-legged babies.
They bottle feed the kitten, teach them how to eat cat food, stimulate the kitten's bladder and bowels to help them eliminate, swaddle them, put them to sleep on heated beds, bathe and groom them, trim their tiny yet mighty nails, socialize them when the kitten is ready, bring them to the shelter for check-ups, and tend to every other need or want all day long.
And this is just the basics. If a kitten has a medical issue, there is medication, more veterinary visits, etc. 
Fosters are critical in the effort to save the lives of homeless kittens, especially during this time of the year. We could not do it without them.
So, we are throwing them a kitten shower! We'll shower our fosters with all the items they need to nurse orphaned kittens to health and happiness. Join us by donating an item from our Kitten Shower Registry! When you view our Amazon Kitten Shower Registry, you can order items and have them delivered directly to the shelter. Alternatively, you may purchase those items on your own and drop them off in the white donations bin sitting just outside our shelter doors. Your donation will go directly towards saving the life of a homeless kitten who lost their momma. Our fosters rely on these items to provide vital care, and we rely on our fosters. Please join us in honoring our fosters with our first annual kitten shower!
If you prefer to make a monetary donation, you may do so below. Your financial donation will support the kittens that need extra care for veterinary visits and medicine, or it can help us buy supplies for our fosters. Thank you for your support!