We stand with animals and we stand with our community.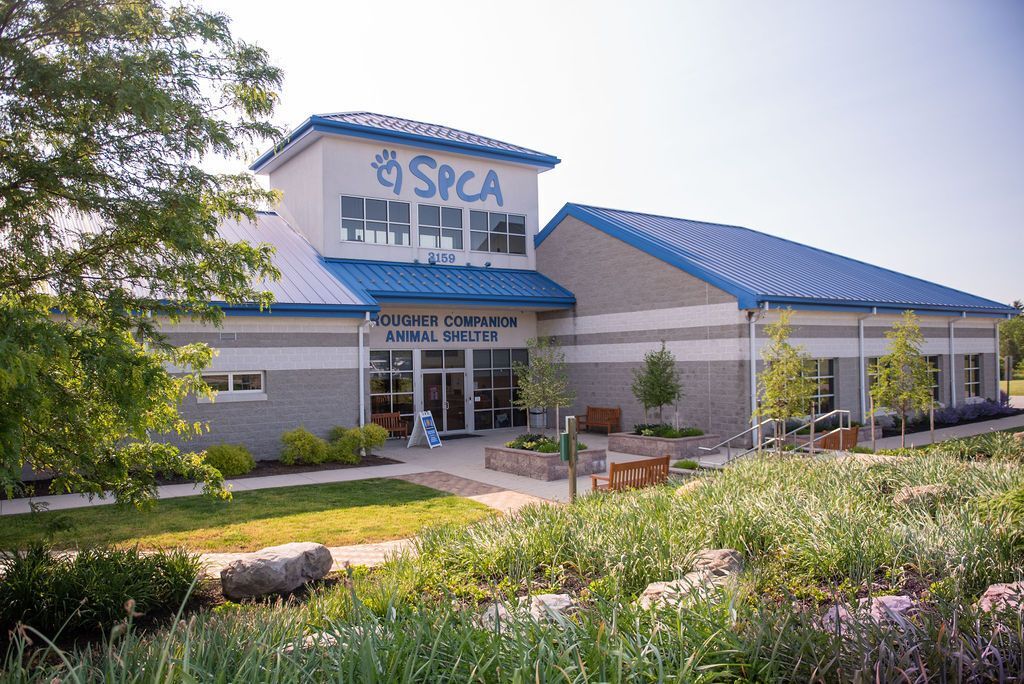 Our Mission
All the staff, volunteers, and donors affiliated with the York County Society for the Prevention of Cruelty to Animals (SPCA) love animals, and we want to save as many animal lives as possible. We do this work because we believe in our mission of providing long-term human and animal services to residents of York County through programs that find permanent, loving homes for stray and displaced animals. Every day we work hard towards helping control the animal population growth rates, investigating and prosecuting animal cruelty offenders, and educating the public about animal wellness and safety.
Our Work
The York County SPCA was founded in 1926. We are a 501(c)(3) non-profit independent humane organization with no affiliation with other animal welfare organizations such as the American Society for the Prevention of Cruelty to Animals (ASPCA), and donations to the ASPCA do not make their way back to this local shelter. Most of our funding comes from generous individual community members and civic organizations. The rest of our funding comes from fundraising events, grants, fees, and municipal contracts. We could not do this important work without the ongoing love and support of our community members.
Thanks to our community's consistent trust, support, and contributions, we are able to fulfill our mission for York County's human and animal populations. In 2022…
We took in 2,354 animals. Most were strays or owner surrendered animals.
We investigated and prosecuted over 200 cases of animal cruelty, neglect, or abuse.
We adopted out over 1,564 animals. This includes dogs, cats, birds, rabbits, chinchillas, ferrets, guinea pigs, hamsters, rats, reptiles, turtles, and more!
We sent over 260 animals to other rescues by developing partnerships beyond our shelter walls.
We reunited over 268 animals with their owners.
Our high volume, low-cost clinic performed 10,021 spay/neuter surgeries. Our veterinarian staff performed another 1,223 spay/neuter surgeries, which means the York County SPCA performed over 11,244 spay/neuter surgeries!
More than 310 volunteers donated their time and energy to help us walk dogs, adopt animals, fold laundry, run events, and perform many other critical duties. Total volunteer hours amounted to over 14,000 hours. That's the equivalent of more than 6 full-time employees!
Our Programs
Not only did we accomplish all those successes for York County animals, we also administered Human Service programs too. One of our mantras here at the York County SPCA is that surrendering an animal to our shelter should be a "measure of last resort" – meaning, we want to connect folks with as many resources as possible so that they can have a successful pet experience and never have to surrender their animal to us in the first place. To that end, we are proud of our programs that help keep a pet in its loving home:
CARMA program supports low-income families so they can provide medical treatment for their pets. We don't want a lack of funding to be the reason someone must surrender their animal to our shelter.
SafePet offers free refuge for people's pets if they must flee a domestic violence situation or are suffering a temporary housing issue/loss. Once they get their feet back under themselves, we reunite the family with their beloved pet.
Pet Pantry program ensures families suffering from food insecurity can feed their pets.
Tales for Tails program helps kids in 2nd – 6th grade improve their reading skills while providing enrichment for shelter animals.
Community Cat Initiative is a program that addresses York County's community cat overpopulation issues.
If you value our services in your community, please consider a monetary donation. Your support is literally lifesaving. Go here to make a contribution.
Our Commitment to Animals
Animals enrich our lives and bring family and community together. Can you imagine what our communities would be like if we didn't protect our beloved animals? As much as we need our animals – they need us to. At the York County SPCA, we stand up for our animals who otherwise wouldn't have a voice or are unable to help themselves. The staff, board, and volunteers work hard every day to build communities where a harmonious relationship exists between ALL York County residents and animals. The staff and volunteers at the York County SPCA are amazing people. It can be a tough job, but we are very passionate about animal welfare and the mission of the York County SPCA.
Sincerely,
Steven Martinez
Executive Director
Accreditations