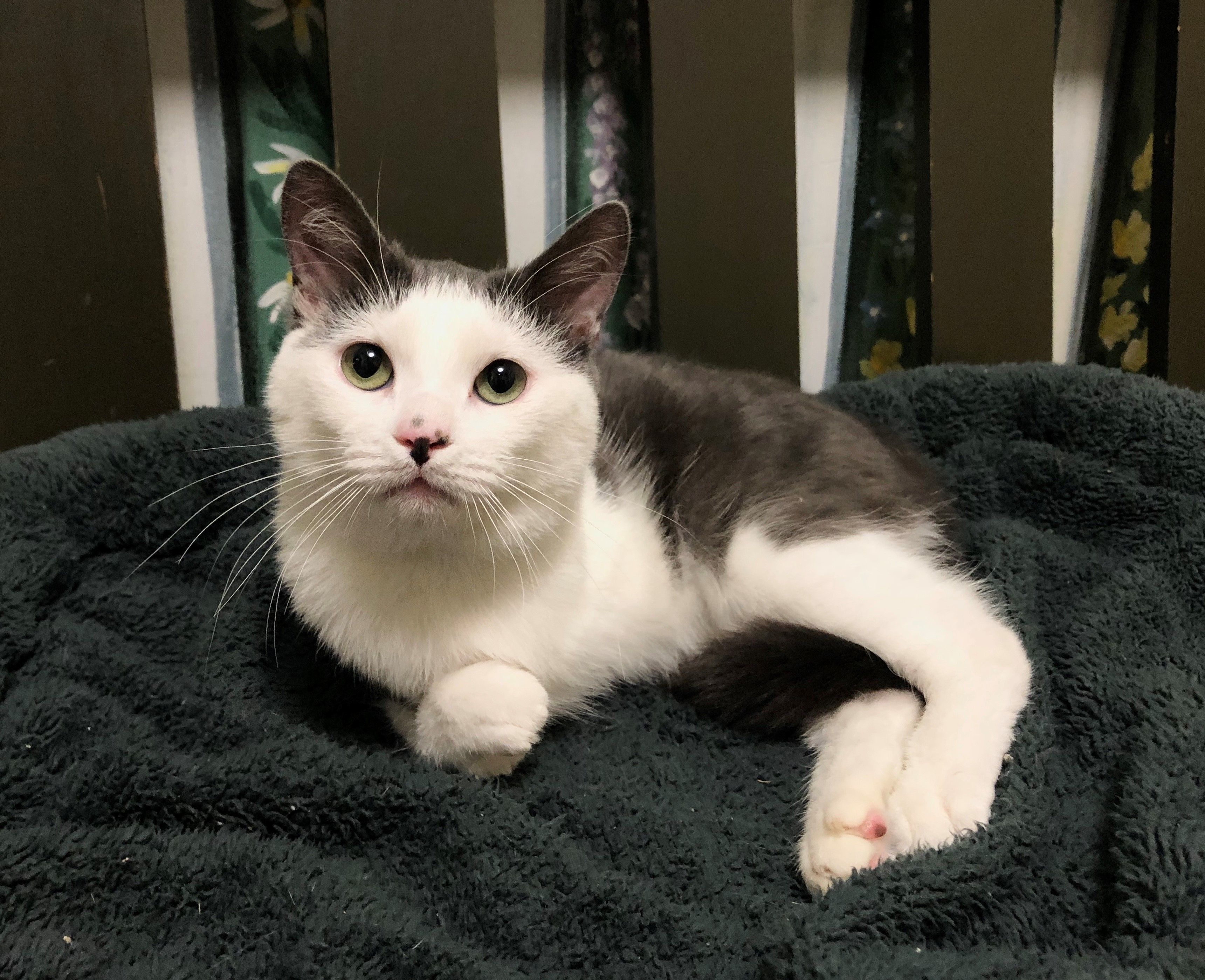 Approximately half of our animal population each year come to us as strays. This is significant because they have no owner or caretaker to inform us of previous medical or behavioral concerns. It is especially challenging for us when we receive an animal who has a concern right away and we do not know how long it has been going on for, if their condition is worsening or improving, etc. 
This was the case for Nemo, an estimated 3-year-old male domestic shorthair cat. Anyone who met Nemo, even briefly, knew right away that something was amiss with his front legs. When Nemo first came to us, he would very rarely stand and much preferred to lay on his side. Both of his front legs were severely deformed.  His right front leg appeared much shorter than was expected and was bent inward at the wrist. The left front leg was more severe in that it was also shorter than it should have been, but it was also fixed in a backward facing direction causing much more of an impediment. The other noticeable thing about Nemo was how scared, nervous, and slightly angry he was. We had no idea if he had endured a previous trauma or was born this way. 
After some time of getting to know Nemo, it became apparent that his left front leg was causing him discomfort and was not helping his ability to be mobile. We immediately decided to perform an amputation on that leg to provide him with relief. X-rays of his legs revealed that he was likely born with this condition.  The surgery went very smoothly, and Nemo began the recovery process. During the first couple days of his recovery, he remained very shy and tended to stay in the same spot of his cage. 
We started getting nervous that he would still not be mobile, so we began researching front leg wheelchairs for cats. One of our employees took the project under his wings. After some measurements, trips to the hardware store, and late nights at home, we had a wheelchair prototype built. The staff was so excited to get Nemo in it and watch him zip around the room.  However, Nemo had other ideas and froze like a statue when he was hooked in. We got in touch with one of the largest animal cart makers in the country who advised us from their years of experience that cats do not tend to tolerate front limb wheelchairs.
Around this time, Nemo was really beginning to heal from his surgery. He was noticeably more outgoing, wanting to play, and interacting with the staff more. It became very apparent how much his left front leg had really been hurting him. Each day Nemo came out for more enrichment time, he began to build up strength in his back legs and learn how to use his new body. He even started using his malformed right front leg to get around and balance. 
Today you can catch Nemo jumping around, playing with toys, running using his front right leg, or walking like a T-Rex on his back legs. It is inspiring to see his strength, resilience and just how well he is flourishing despite his differences. Although we do not know about his past or how long he had to endure his discomfort, we can be confident in knowing his future is bright.