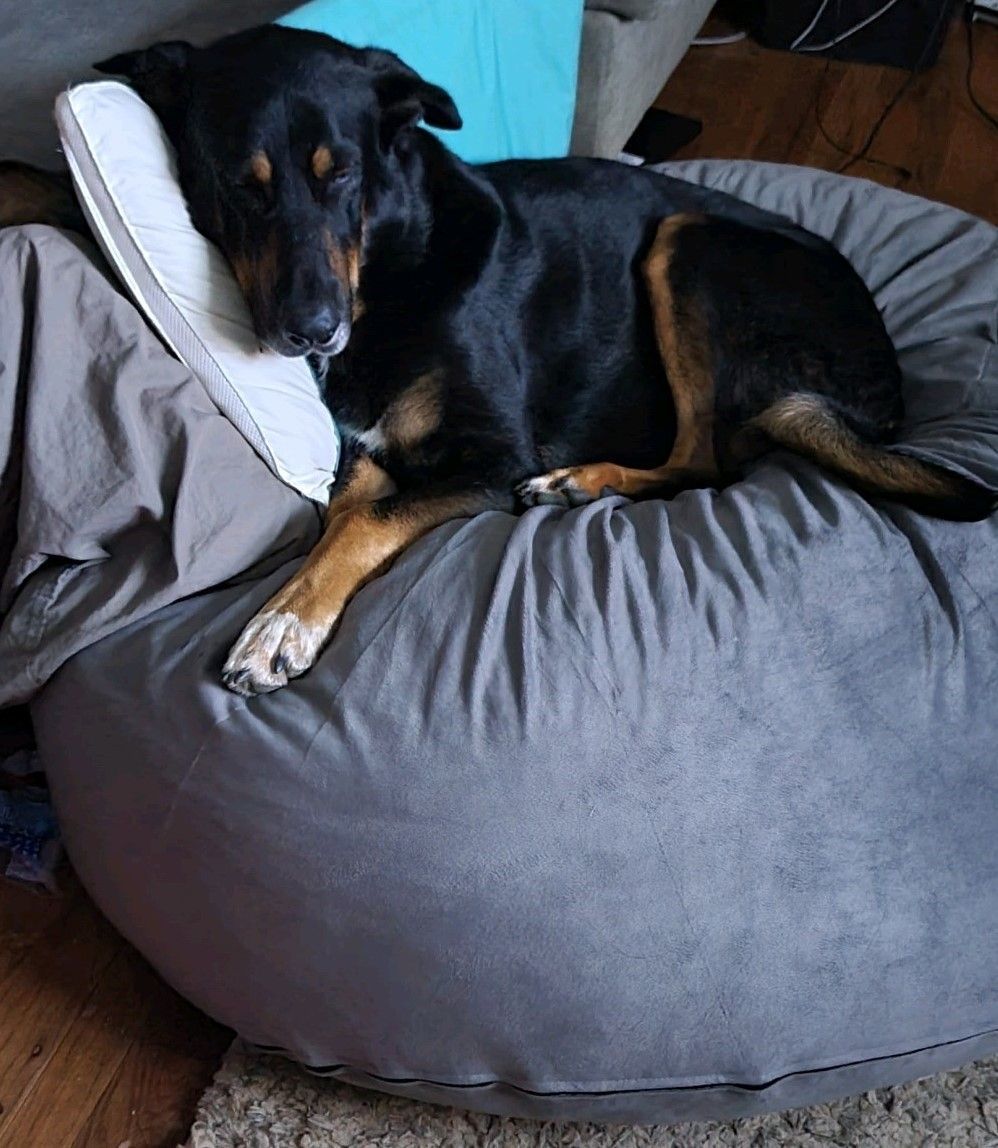 Vladimir came to the York County SPCA in early June. After medical treatment, enrichment, and much-needed love, we sent Vlad to a foster home to get extra rest and recovery before finding his final forever. Foster homes are miracle workers for many animals. We suspect Vladimir endured significant abuse in the first 7-8 years of his life. But this guy bounced back with a loving, gentle heart. We know that, of animals' many superpowers, resiliency is one of them. Vlad proved that to us once again. Thanks to his spirit and amazing foster family, Vlad is now available for adoption! Here is what this sweet senior's foster dad, Jim, had to say:
"Meet Vladimir! A gorgeous, goofy 8-year-old who did not have a kind start to life but, despite his hardship, has become a wonderful member of our family.
Vlad was picked up as a stray; however, he showed obvious signs of previous ownership and severe abuse. There were pellets embedded under his skin from, we assume, having been shot with a pellet gun. But they do not bother Vladimir, and it actually makes cuddling that much more interesting when randomly finding one of the pellets.
Vlad is quite well-trained. He easily took to his new home and, even though he did try to mark on his first day, he learned quickly what the potty spot is. He is crate trained; however, he is a sneaky bugger and will occasionally escape if left for too long. Generally, no need for a crate as he is very, very good in the home. Vladimir responds well to sit, come, hand, down, no, out, and bed. He responds most of the time to stay…if treats are involved. He still needs a bit of work on the leash but is perfectly fine off-leash for backyard play.
Vlad LOVES beanbags. He has an arthritic right elbow and will absolutely take over any beanbags in the house. He is an enormous cuddler. He just loves being part of a family. Vlad will always be there. Never underfoot but always nearby. Vlad will sleep in the bed with you if you allow it but will also respect you and sleep in his bed or beanbag if you don't allow it. His only downside to cuddling is he likes to swipe with his paw every now and then, and those nails can hurt. He is also a big fan of jumping in bed and licking the kids when it's time to wake up in the morning.
Vlad does really great with kids 6 years and older as well as with cats, though he tends to lunge at them every now and then in an attempt to play. No snapping or aggressiveness, just trying to touch them with his nose. Vlad is a bit hit or miss with other dogs. He is very dominant aggressive/protective. He's a lady's man as he seems to get along with every female dog in sight (dominant or otherwise), but he seems to only agree with the shy, submissive males. Vlad loves to destroy any stuffed animal you give him, but only the ones that were given to him. He is currently in a home with 200+ stuffed animals and he will only touch the ones specifically given to him while in his bed. Vlad's biggest downfall is his nose. His sense of smell is so keen that he can smell things in airtight packaging or from other rooms. This can sometimes get him in trouble if he smells something really tempting in the trash can. Though, he is extremely hilarious as he tries to act sneaky and fails miserably. This doesn't happen often but be forewarned.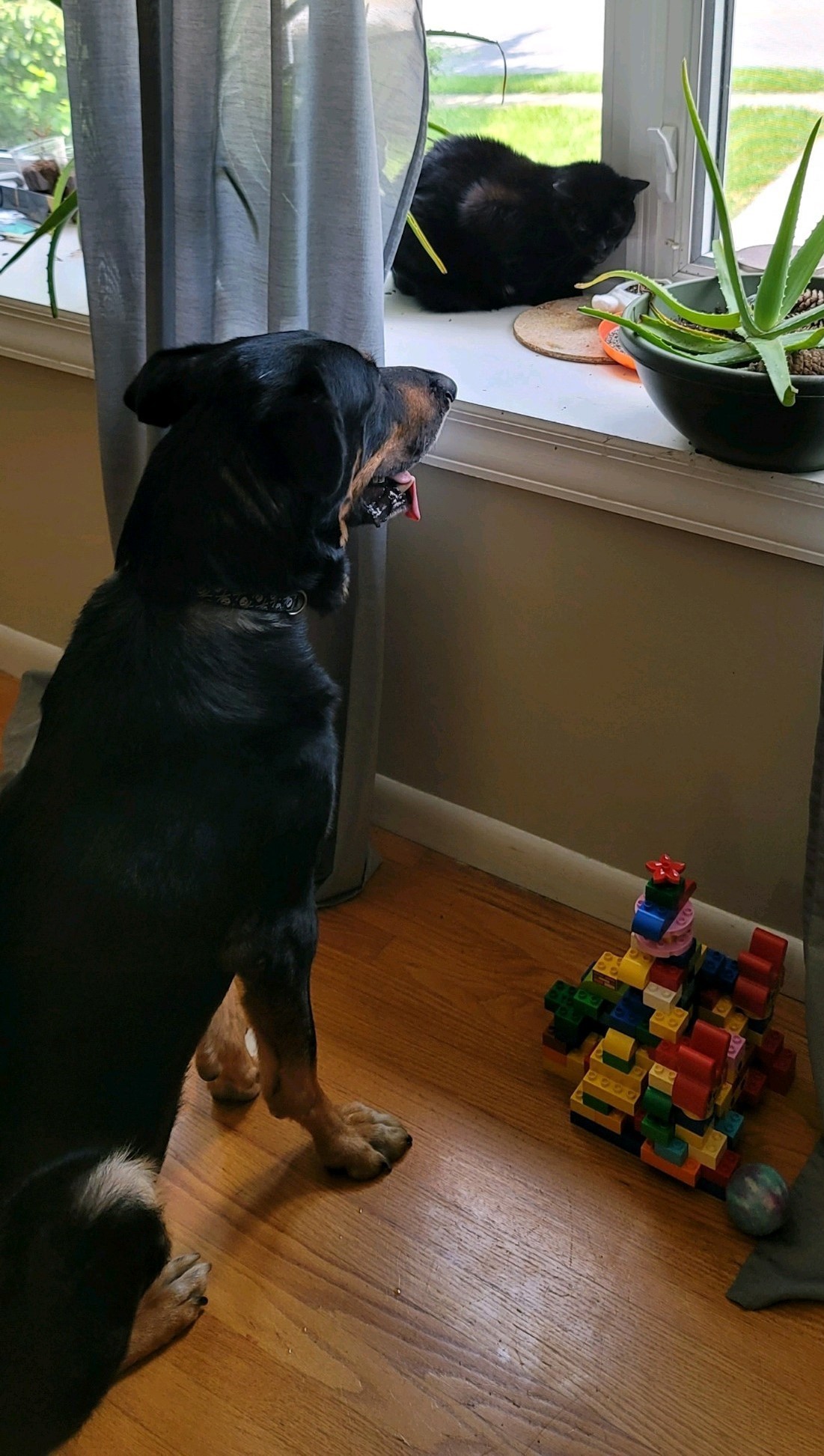 Vlad does have issues with his elbow. He needs joint supplements every day and, often times, stronger meds. Though, he might still limp or walk around on 3 legs. Even so, he enjoys walking park trails and in neighborhoods. He is awesome on car rides, very well-behaved. Besides being a great family member, a fantastic cuddler, and an unbeatable companion, Vladimir's only other hobby is chasing squirrels or rabbits. He will need to be closely monitored, even with a fenced yard, as he can clear an 8 - foot fence with ease if rabbits or squirrels are around."
We are so grateful to Jim and all of Vlad's foster family for everything they've done to help this loving guy. If Vladimir has won over your heart just like he's done to so many others, apply to adopt him today!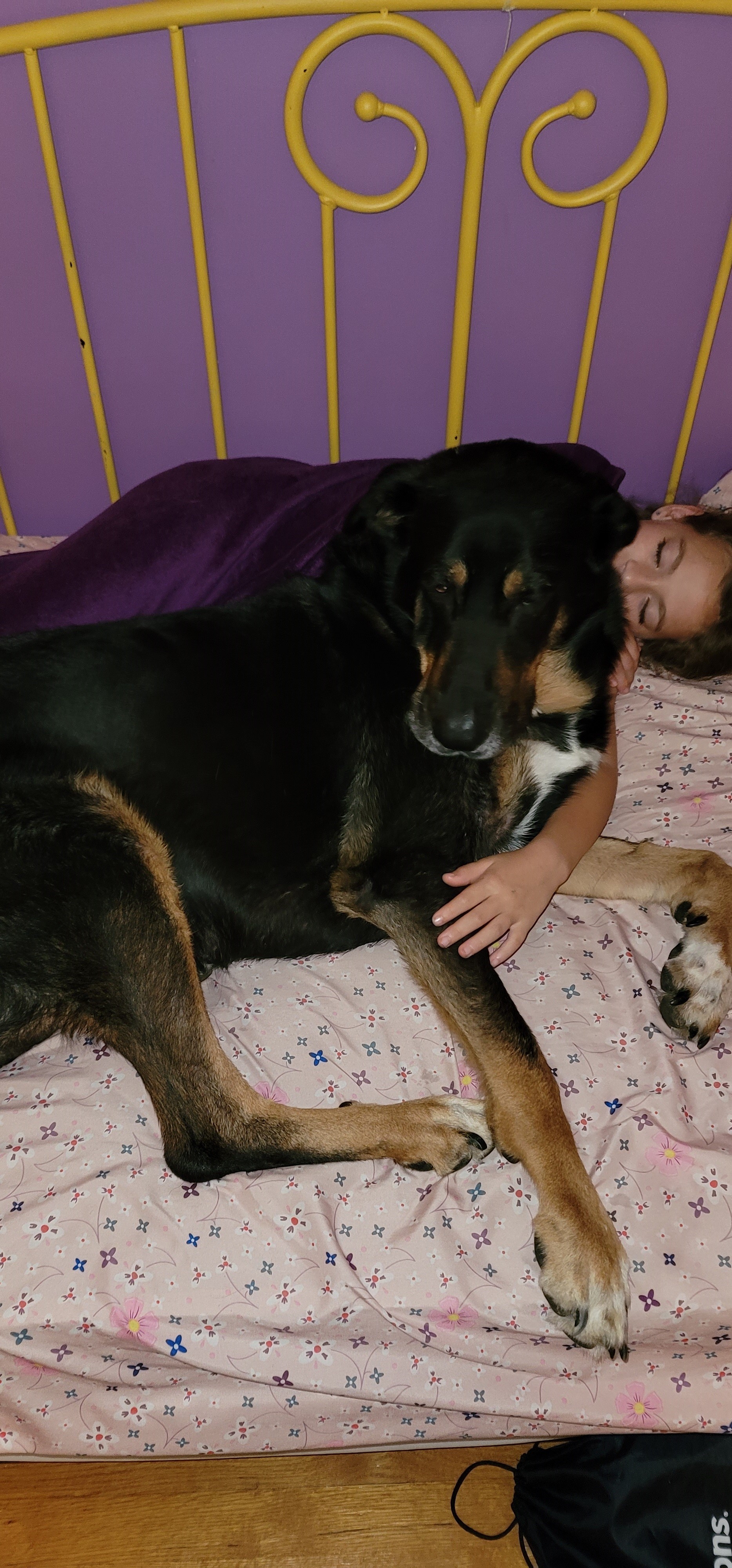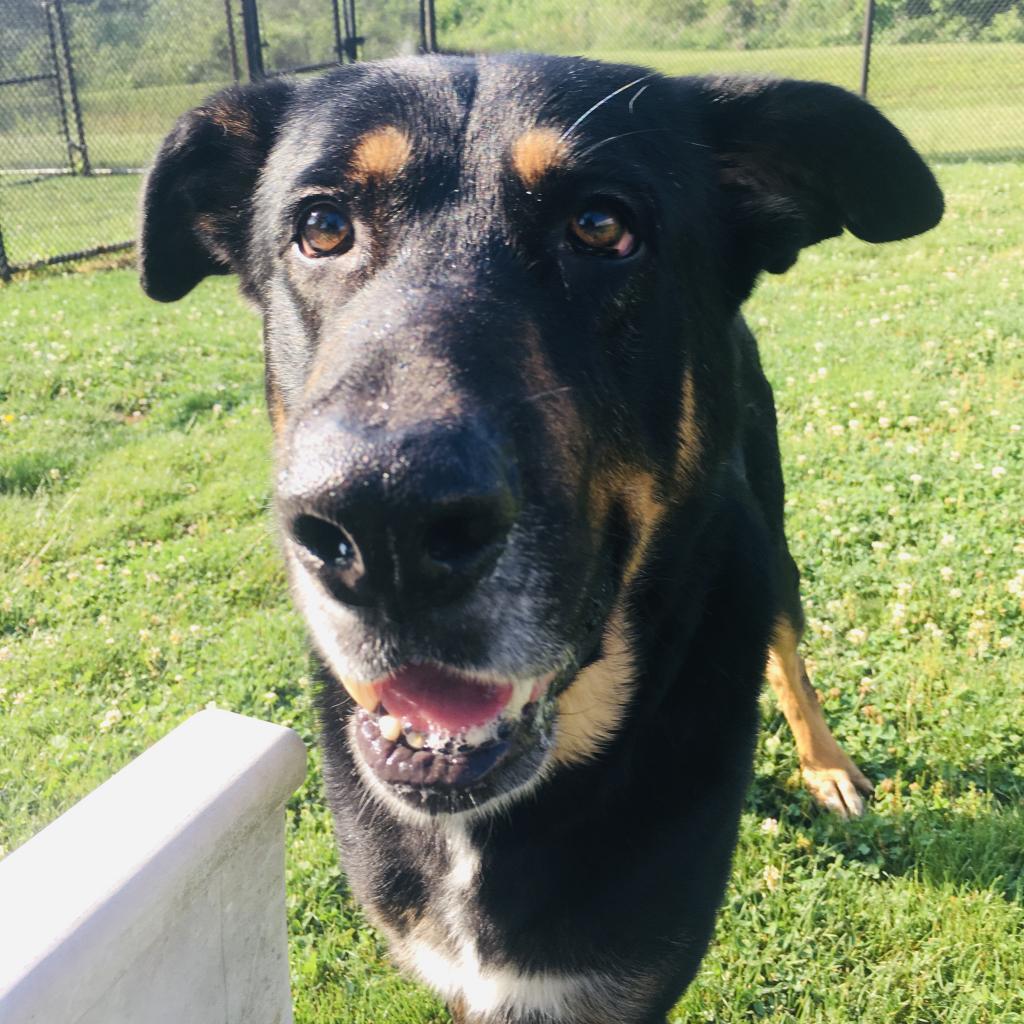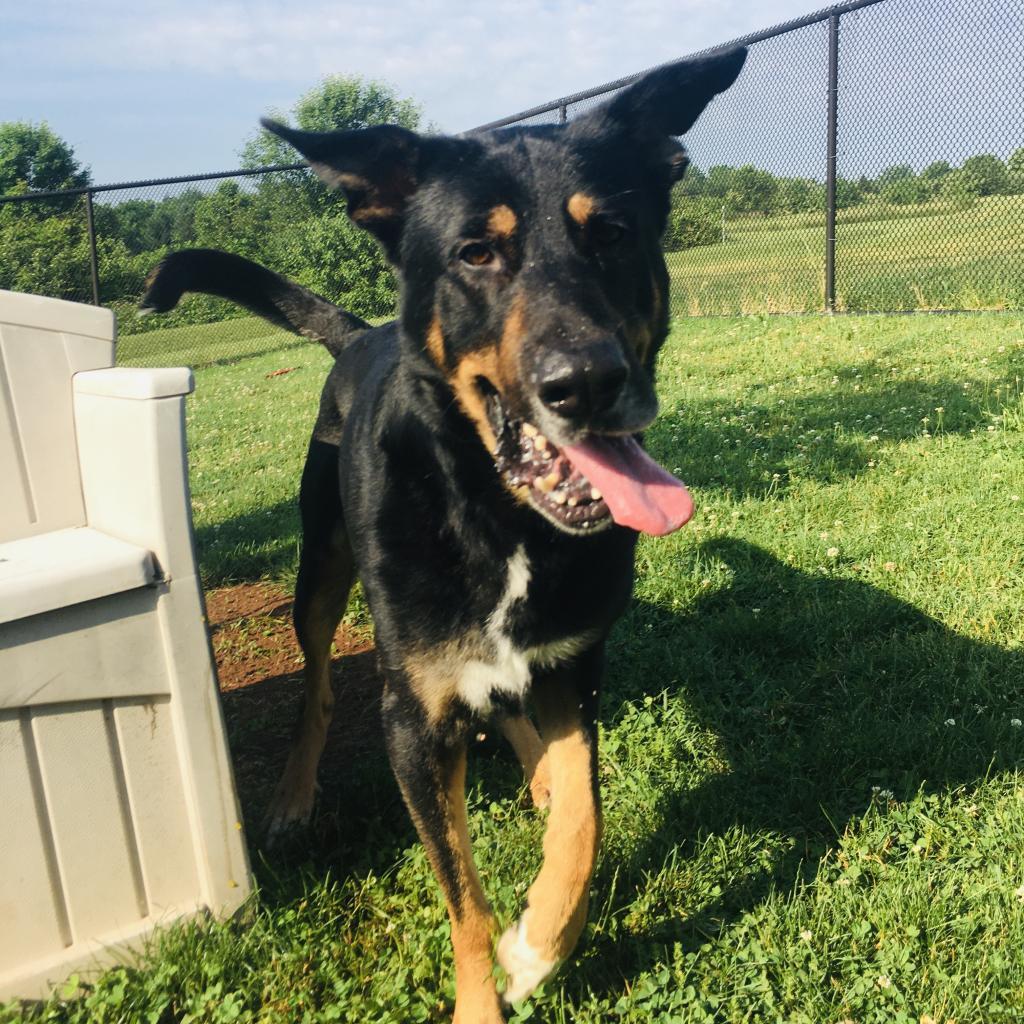 Or, if Vlad's not your guy, don't worry - we have lots more incredible dogs looking for forever homes who need your help. Check them out on the Available Dogs page and submit your adoption application!