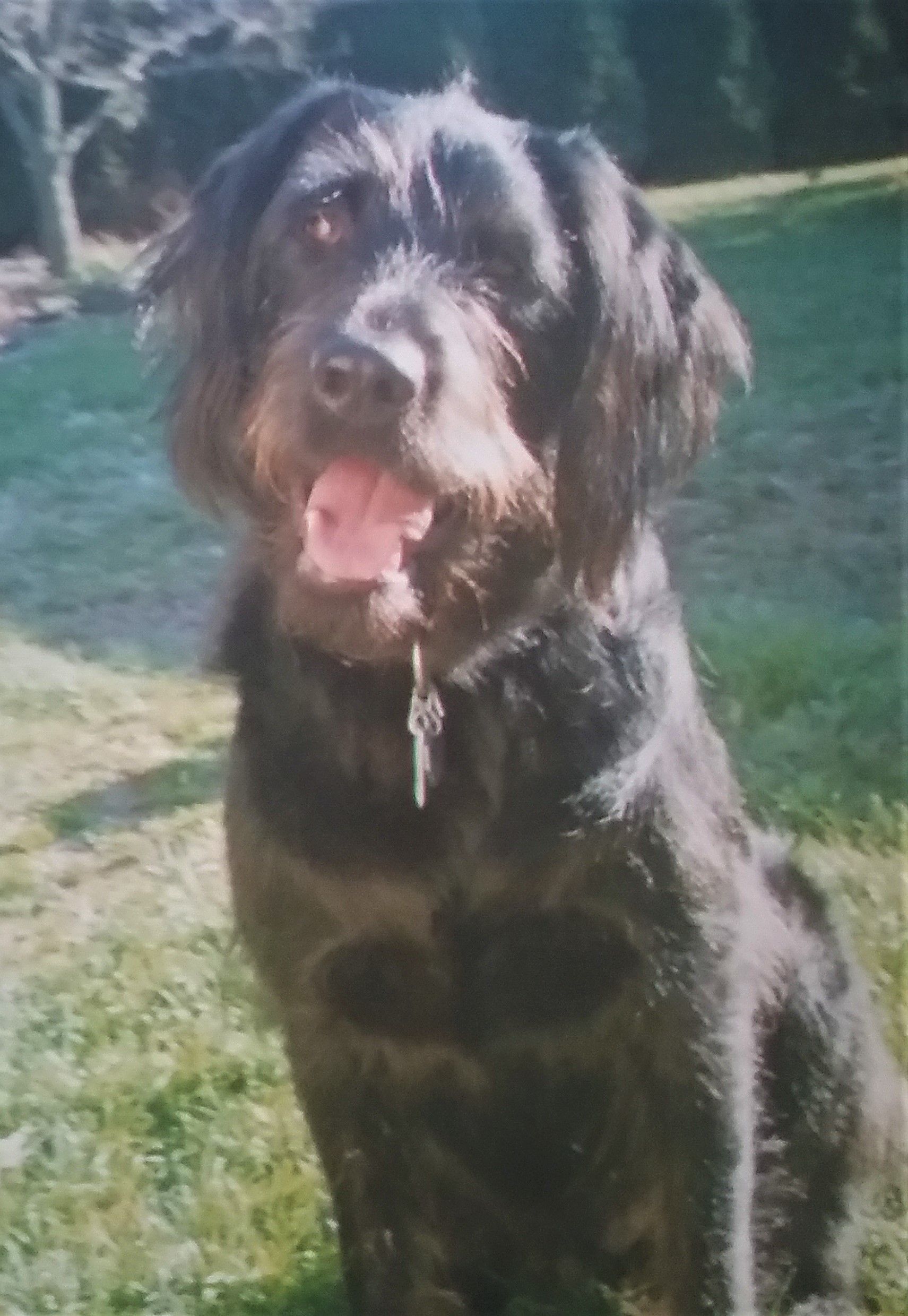 Hank's new life began on June 11, 2006 when we adopted him from the York County SPCA. It was the grand opening of the newly built Brougher Companion Animal Shelter. That day, my husband, Rod, and I waited to tour the facility in a line that stretched from the dog kennels out to the front steps.
We were looking for a shy black dog we had seen the previous week at the now closed Thomasville location. The name on his ID card was Bullet and he had a bandage on top of his head. He was found stray and it was believed he had been shot, hence the name Bullet. He was an adult dog that the shelter estimated to be between one and five years old. He cowered in the back of his kennel and wouldn't even look at us. We decided to wait and give him time to adjust and meet him at the new facility. We had lost our two previous dogs - both rescues - in the past year and a half to age-related health issues and felt we were now ready to add a new member to our family.
When we found Bullet at the new facility, he was like a different dog, bright eyed and no longer so fearful. Shelter employees brought him out to meet us and, after spending time with him, we knew he was the one for us. He was calm, affectionate, and very well mannered.  We brought him home that day.
We renamed him Hank and at first, he seemed to be adjusting well to his new life. He was housebroken from day one and loved people, especially kids. After about a week, he started exhibiting signs of separation anxiety when left alone in the house. We would come home to shredded paper, chewed up rugs, and missing shoes. We bought a large crate and crossed our fingers.
The crate worked for a few days and then he bent the crate out of shape and pulled a rug through the bars and chewed it. Hank started jumping on me and nipping at my arms. On our walks, he would suddenly flip around on his leash almost pulling me down. And he became aggressive towards other dogs. We never encountered these problems with our other dogs, so we were at a loss as to what to do. We knew one thing - we were not giving up on Hank. We felt there was a great dog inside and we went looking for the tools to uncover it.
We went back to the shelter and asked for help. The staff was very helpful and suggested many options for us to consider. So, on their recommendation, we brought him to training classes, enrolled him in private obedience classes, and put him in doggie daycare while we worked. Our vet prescribed a calming medication. The shelter felt he would benefit from having another dog in the home, so we started meeting other dogs at the shelter to hopefully find a match for Hank. None of them appealed to him. Hank loved people but not so much other dogs. He slowly began to settle down and become a calm, respectful companion although he had not gotten over the separation anxiety.
A few months later, the shelter called and said they just rescued a dog that they felt was the perfect match for Hank. We were doubtful, given his past experiences with other dogs we brought him to meet, but took him anyway for the meeting. A huge Goldendoodle came bounding out to greet us, full of energy and ready to play. I remember thinking that this dog is going to be too much for Hank, but amazingly, Hank seemed to like him. Hank showed no aggression towards him and for the first time, wanted to play with another dog instead of wanting to dominate them. 
We adopted the Goldendoodle that day and named him Jake. He was about 1 year old, had a huge heart, and loved everybody. Hank became the great dog we always knew he could be, and the separation anxiety disappeared. They went on every vacation with us – hiking the mountains and swimming the rivers of West Virginia, Maryland, and Pennsylvania. "Our boys" as we called them became our constant companions for several years.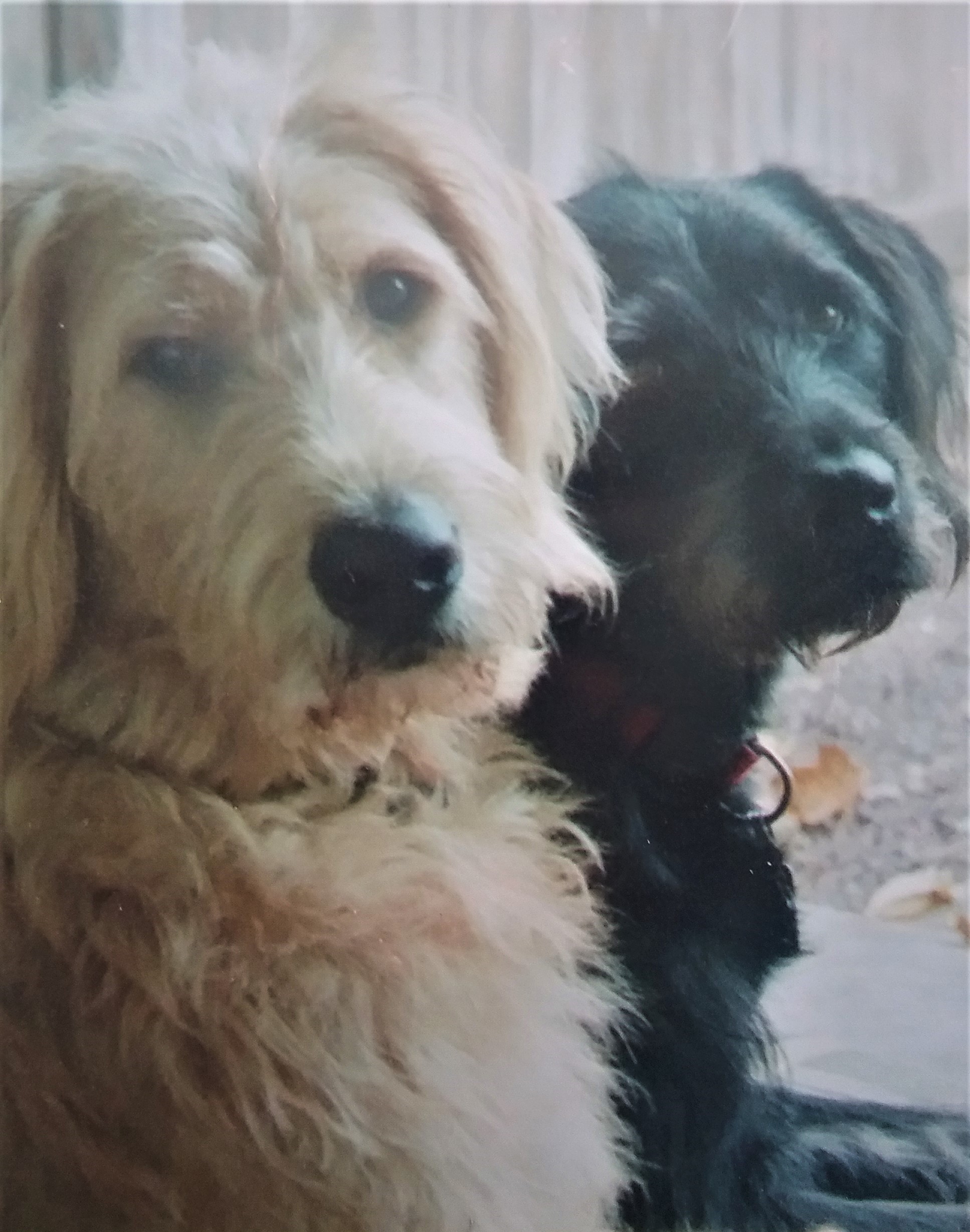 Sadly, eight years later, our beloved Jake passed away from lymphoma. We were heartbroken. It was like a light went out of our home – he was so full of life. Hank missed his playmate but seemed to adjust to the loss fairly well. We did not adopt another dog as Hank seemed to enjoy being the only child in his later years.
In 2018, after my husband Rod's sudden passing, Hank's health slowly started to deteriorate. His arthritis became worse along with his hearing and eyesight. He felt the loss of Rod deeply. He still enjoyed our daily walks through the woods and fields surrounding our home, he just went at a slower pace.
In January 2021, Hank became very ill and was diagnosed with liver cancer. He passed away peacefully in March.
Hank was quite possibly the last surviving dog that was adopted that opening weekend of the new shelter in June 2006. Without the help and encouragement of the shelter staff, we would have never found Jake, and Hank may never have had the opportunity to shine. He was a loyal companion and faithful friend to the end.
At the shelter, Evelyn is known by her nickname, Evie. She has been volunteering at the York County SPCA as a small dog walker since she retired in January 2018. Evie says that, after a rough couple of years, the shelter dogs have been her salvation. She said, "Being around them is good for the heart."