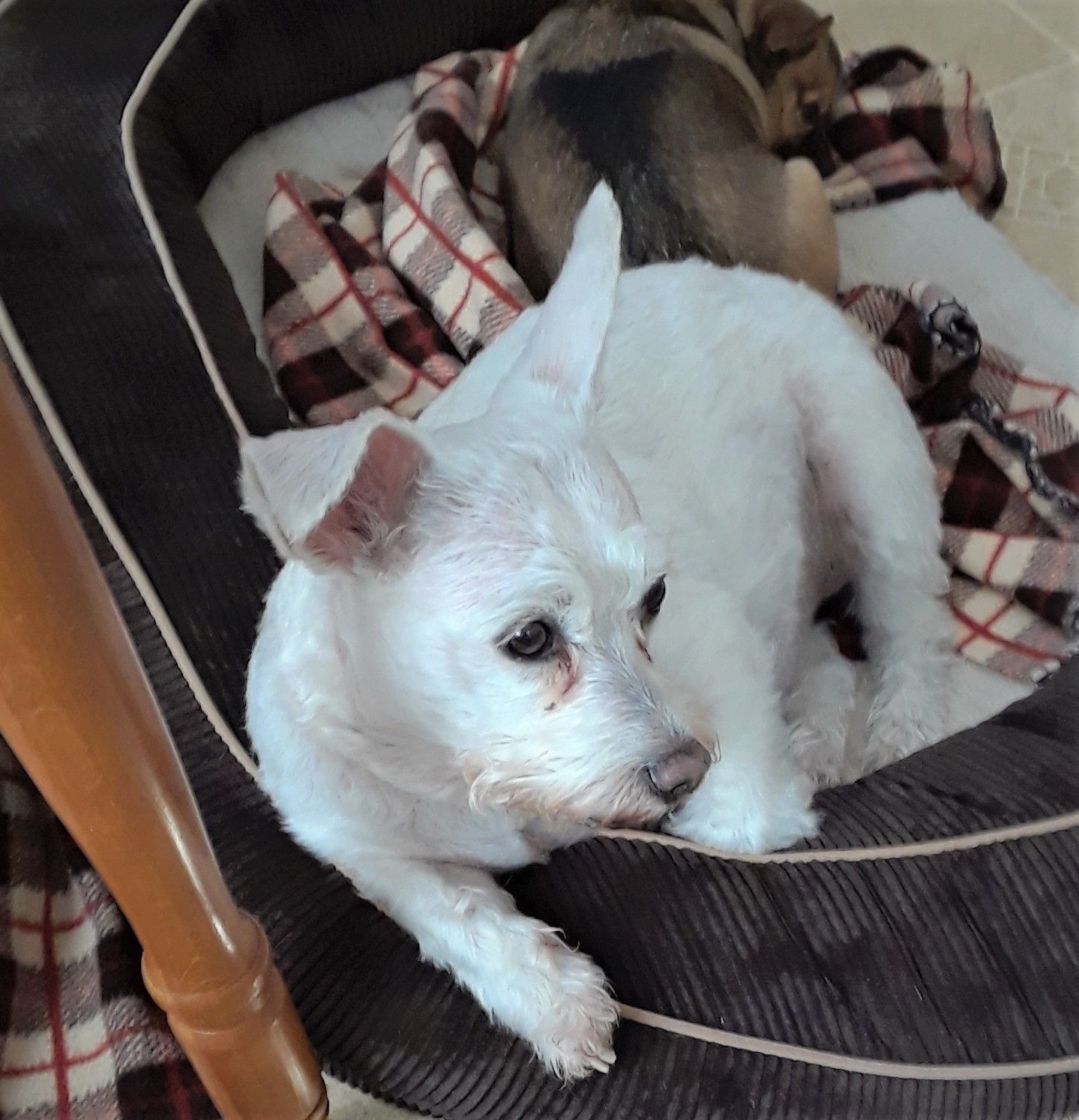 Baby Girl (formerly Heaven) came to the York County SPCA in January 2010. She was a sweet little West Highland Terrier mix, white as snow. But Baby Girl was suffering. She had a fractured left back leg from being hit by a car, and there was a 12-inch stick jammed down her throat. Baby Girl had been placed in a trash can and left to die.  
Her spirit to live was what kept her alive. A young girl coming home from school had heard whimpering coming from the trash can, found Baby Girl, and ran home to tell her mother. Then, the mother called the local Animal Control Officer. After being rescued, Baby Girl was then placed in the hands of the staff at the York County SPCA. She was immediately treated and needed placed with a foster family for her recovery care. Baby Girl was a sad and broken little girl, but I could see the hope in her eyes and trusted that she would make a full recovery. I took her home right away for foster.  
After several weeks, she started to show signs of happiness, wagging her tail and starting to play with my other dogs. I knew then that she was going to be my little girl. So, we adopted her and she became family. What a great little girl; she loved to travel and go camping with us. She loved to sit on the deck and watch the neighbor's chickens and goats all day. Every morning, she would sit with me to get her little belly rubbed. That would start our day, and at night when it was time to go to bed, Baby Girl would come in and curl up with me. She would sleep tight up against my back until it was time to get up.  
We adopted Baby Girl eleven years ago, and after that, she was loved and cared for every day of her life. But unfortunately, we can't foresee everything, and the worst happened to her. Baby Girl became sick and we rushed her to the Emergency Hospital, where she was diagnosed with kidney failure. We lost her on August 5th, 2021. I will sadly miss her for the rest of my life.  
Scooter Deller has been volunteering with the York County SPCA for over 15 years. She has served as a dog walker; helped clean, organize, and build equipment at the shelter; transported animals; assisted with various animal care duties; and has answered the call for help whenever the York County SPCA needs extra hands. Scooter has also fostered more than 80 dogs for the York County SPCA, focusing her care on injured and special needs animals and helping to rehabilitate them.