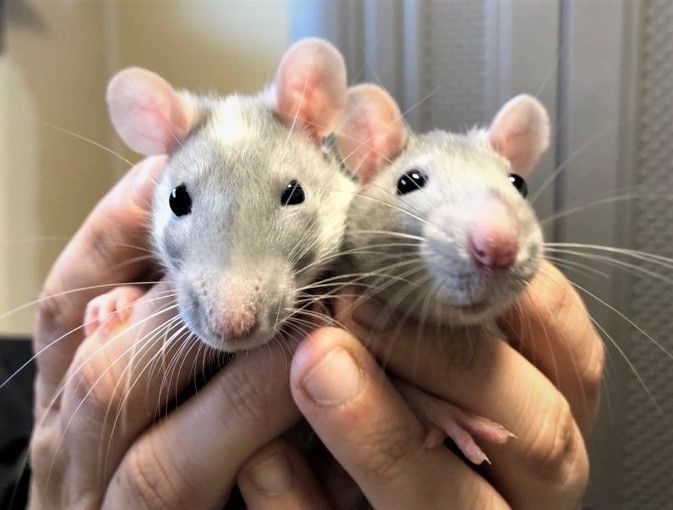 One of the most remarkable things we experience at the York County SPCA is the tremendous teamwork between staff, adopters, fosters, volunteers, and rescue partners. Recently, our team and community came together in a big way when our shelter became inundated with approximately 100 rats.  
We received a call from a woman who had been breeding rats for a local pet store. However, the pet store suddenly shut down. At the time, she had more than 70 rats in her care and no place for them to go. Female rats can become pregnant at just three months old. Their pregnancy lasts for only a few weeks, and they can birth between five and twelve rat pups on average. Then, they can become pregnant again in just a few weeks. Needless to say, the woman's 70 rats quickly multiplied.   
Our original plan was to gradually intake the rats in small groups because we did not have the capacity to safely house so many. However, once more and more rat pups were being born and the woman's mischief (the term for a group of rats) exceeded 100, we switched to emergency mode. Our team went to the woman's home as soon as possible to separate the male and female rats. That day, in just a few hours, we transferred more than 65 rats into the shelter.  
The mischief of rats in our care was a mixture of male and female, old and newborn, unaltered males and mothers with unweaned babies. That's where our village stepped in. Staff came together from all departments to care for the rats, and many staff offered to foster or even adopt rats. We received dozens of adoption applications from our community. Fosters stepped in to temporarily care for these cuties. And local rescue partners offered to take multiple rats into their care, alleviating our burden. Those rescue partners include Speranza Animal Rescue, Sophia's Grace Foundation, the Humane Society of Harrisburg, and the Humane Society of Carroll County.
With the help of our staff, loving rescue partners, fosters, and adopters, we can happily say that all of the rats have been placed or are waiting to be placed in their forever homes! In fact, we received more interest in rat adoption than we had rats to adopt, which is great! From the bottom of our hearts, we are so thankful. Animal welfare work truly does take a village.