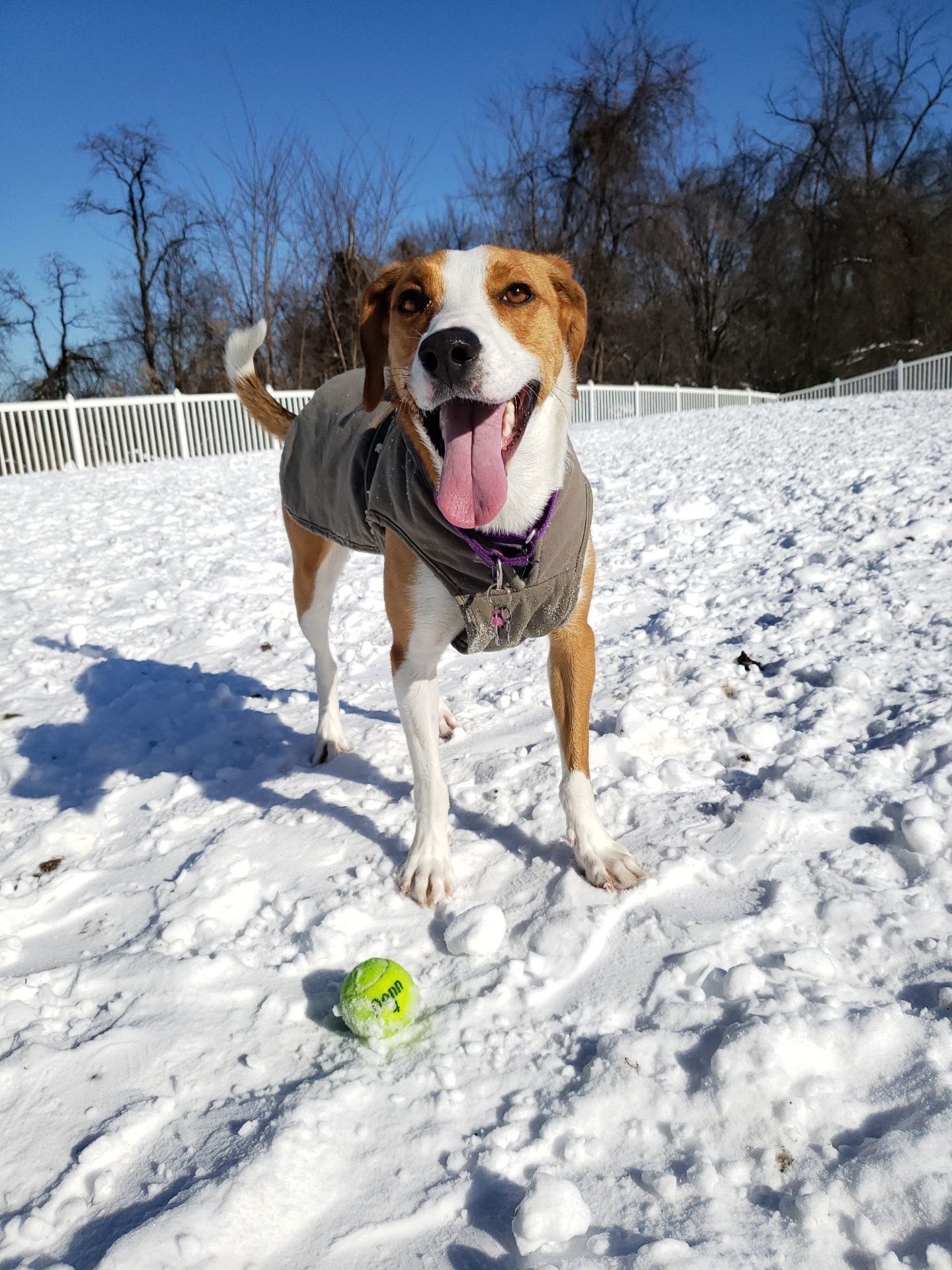 Hi! My name is Daphne and I'd like to tell you my rags to riches story. I'm writing this from the comfort of my memory foam bed as I gaze over the living room floor littered with tennis balls and toys. I can't help but smile because, to me, this is heaven. I'm telling my story in hopes that all my friends at the York County SPCA also get a forever home like this. 
Last May, I was scooped up off the streets, and I was scared and thin. I was so hungry I thought grass and gravel were gourmet foods. I assure you they are not! The nice humans at the YCSPCA took me in, cleaned me up, helped me feel better, and took me outside for walks several times a day, and even played with me. This was a big improvement, but new people and the noisy kennel made me nervous. I slowly warmed up to the humans who worked there and was always happy to see familiar faces. They started to call me a "fan favorite," which felt pretty cool.
Several weeks later, it happened. My mom was taking the volunteer dog walking class at the YCSPCA, and the Volunteer Supervisor picked me to show mom how to walk the shelter dogs. Can you believe it? Me! I walked mom as nicely as I could and made sure to be on my best behavior. I knew I made a good impression. The next week, she came back to the kennel but this time with my dad. With a little convincing (because men made me nervous) I decided to walk him too. We hit it off right away. Then we realized that I came to the shelter on my mom's birthday! Obviously, this was meant to be, and I knew I wanted to adopt these two humans as mine. The following week, I hopped in the car and was headed home. It was sad to leave the friends I'd made at the shelter, but they assured me great things were coming.
When we got to our house, I had my very own kennel with a bed, blankets, dishes, and toys. But best of all, I got a collar. At night, before bed, we shelter dogs would chat amongst ourselves. There was a story going around that when a dog becomes part of a family, they get a special necklace called a "collar." Now, I finally have one. It's purple and I'm so proud of it.
Gradually, I got more comfortable living with my new family. We established a routine because evidently, humans need to be walked regularly. Then, we started to have friends over and go to the "dog park." Did you know that there are parks just for us? It's the best! We go almost every day now to play fetch, even in the snow!