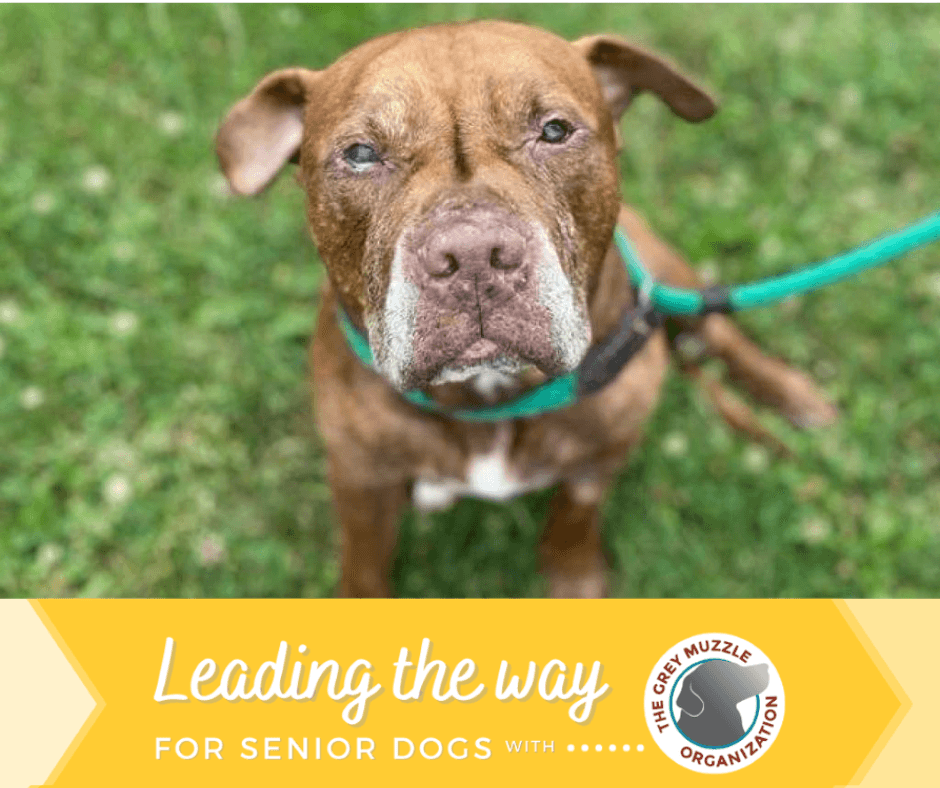 Senior dogs have something to wag about this summer, as The Grey Muzzle Organization announces the recipients of its annual grants, and dogs at the York County SPCA (YCSPCA) are among the winners.  
The YCSPCA is one of 78 animal welfare groups chosen from 344 applicants to receive a grant to help local senior dogs. These groups received more than $705,000 in total grants to help save or improve the lives of at-risk old dogs in their communities.  
Like Oak, a nine-year-old Pit Bull mix who was found in a tree stump. We don't know how he got there, but we know he spent several days with no access to food or water before finally being retrieved. By the time Oak came to us, he was very skinny, depressed, and dehydrated. His eyes were goopy and it appeared that he couldn't see well. However, when Oak did show signs of sight, his tail would wag ever so slightly.  
Blood work showed that Oak was Lyme positive. At first, his kidney values were significantly elevated. After aggressive fluid therapy, his kidney values came down; however, they were still slightly elevated, showing he has some permanent kidney damage. This occasionally caused him to have a decreased appetite or to vomit, but he did very well on an antacid and a kidney health-specific diet.  
Despite Oak's health and unfortunate past, he is still a sweet, loving old man. He gets along with all humans and animals, and he seems to want nothing but companionship and affection. Oak truly has a heart of gold. His health improved after receiving daily care in our veterinary wing. And now, Oak is truly healing and doing better than ever because he was recently adopted!  
Thanks to the Grey Muzzle grant, we were able to provide as much medical and dental care as Oak needed while he waited for his new family, just like we will be able to do for all senior dogs in our care need they await their forever homes. No one is more grateful or loving than an old dog, and we look forward to helping more senior dogs get the second chance they all deserve, just like Oak. 
"We are thrilled to have been awarded the Grey Muzzle Grant. With the help of this grant, we hope to overcome hesitations and ease any concerns people may have about adopting a senior dog," said YCSPCA Shelter Medical Director, Dr. Natalie Weekes. 
Over the past 14 years, the national nonprofit Grey Muzzle Organization has provided more than $3.8 million in grants to support its vision of "a world where no old dog dies alone and afraid."  
"Thanks to the generosity of our donors, we're delighted to help deserving organizations like the York County SPCA make a difference in the lives of dogs and people in their communities," Grey Muzzle's Executive Director Lisa Lunghofer said. "Many senior dogs in York County are enjoying their golden years in loving homes thanks to the wonderful work of the York County SPCA."  
The national nonprofit The Grey Muzzle Organization improves the lives of at-risk senior dogs by providing funding and resources to animal shelters, rescue organizations, sanctuaries, and other nonprofit groups nationwide. For details, please visit www.greymuzzle.org.