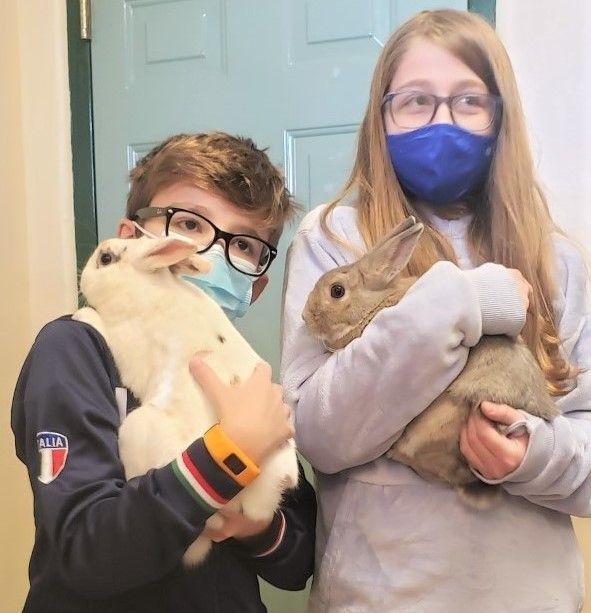 This brother and sister were so excited to find a bonded pair of adoptable rabbits, Charlie and Smores, on our website that they took it upon themselves to create a persuasive presentation (including visuals!) for their dad. They researched rabbit care, got to know Charlie and Smores' backgrounds, and became knowledgeable on all things small animal.
After discovering that their dad submitted an adoption application, they texted him at all hours of the day asking if the meet had been scheduled yet. Unfortunately, since the family was coming to the shelter from Philadelphia, the meeting had to be scheduled for the weekend. The kids could hardly wait, having already fallen in love with Charlie and Smores, and even expressed concern that the duo would be adopted before they could come to the shelter.
Then, after what seemed like a lifetime for this brother and sister, it was finally time for them to meet Charlie and Smores. As our staff walked the two rabbits to the meeting room, the kids were watching eagerly through the window, their faces lighting up the second they saw Charlie and Smores. It was love at first sight. As they met with the bunnies, the kids took charge of the conversation, asking smart questions and making sure they knew everything they needed to know about how to properly care for their new family members.
After some final paperwork and one last nail trim, Charlie and Smores were being carried out of the shelter, Philly bound with their new family. Everyone left with full, happy hearts and overflowing with excitement for the future.