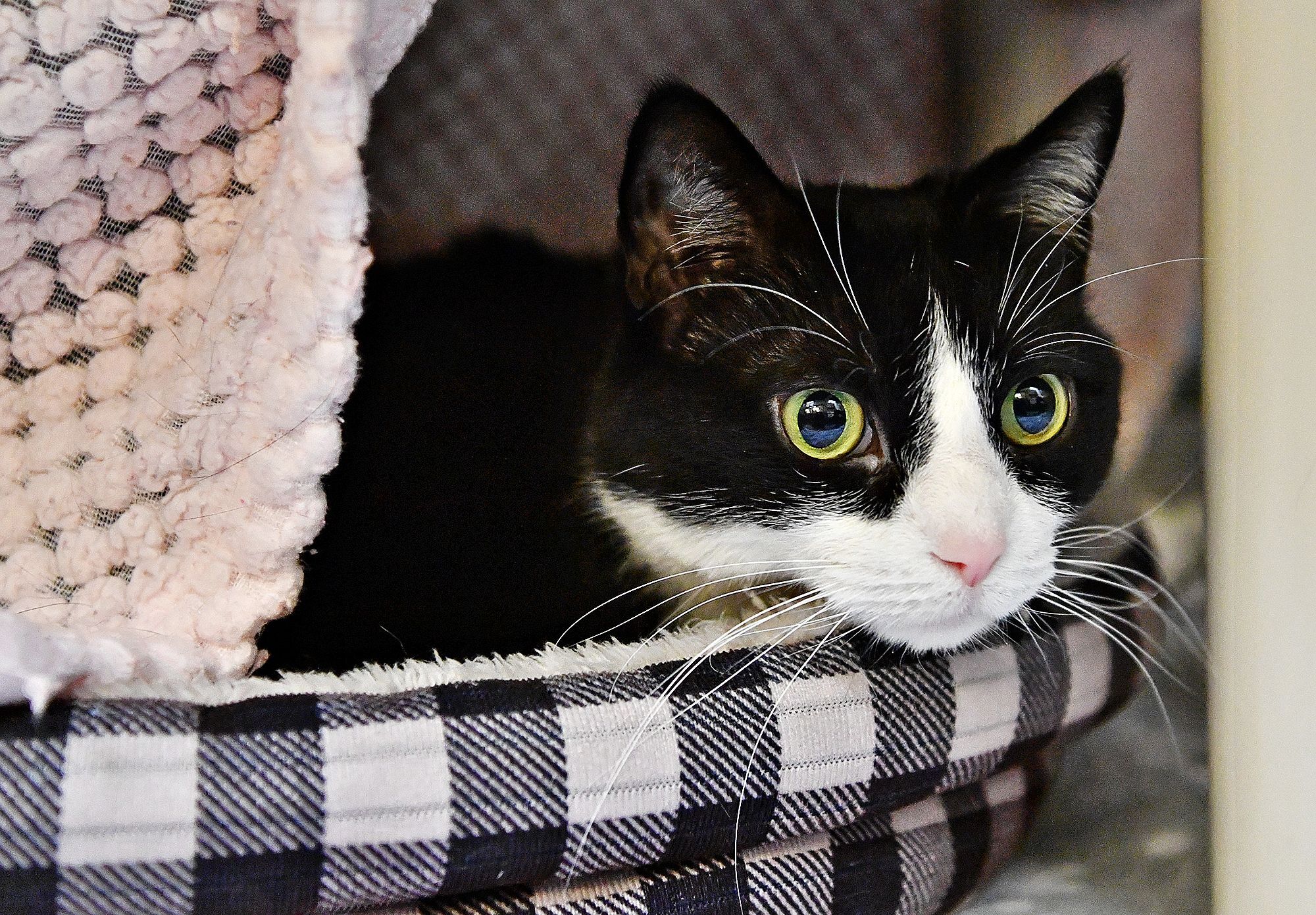 Princess came to the York County SPCA in August 2021. As a confident, 7-year-old lady, Princess immediately lived up to her name. She loved the spotlight, pets on demand, and personal space on demand. Regardless of her high standards, Princess was also very sweet and affectionate when she met someone she wanted to befriend. It was impossible to not fall for her, as all our staff and volunteers quickly did, because she truly just loved to be loved.
A few months passed and Princess had received very little adoption interest. Another few months, and still, nothing.
Sometimes, it's difficult to judge how quickly an animal will be adopted. We didn't expect Princess to zoom out of the shelter as quickly as a fluffy kitten, but we also could not have predicted how long it would take for her ideal adopter to come along.
After about eight months in the shelter, Princess was growing anxious. We arranged for Princess to have her own cat condo (she's not a fan of other cats), so she could have more space to roam and be active. We offered regular puzzle toys to prevent overstimulation and provided as many enrichment and socialization sessions as possible. While Princess was healthy, she wasn't thriving as well as she could in a home.
After ten months, Princess was our longest-term feline resident and one of our longest-term shelter residents. So, we featured her in our Longing for Home Challenge, an adoption campaign we run for specific animals when they have spent too many months in the shelter. We waived her adoption fee and pushed as hard as we could to find her perfect person because, despite ten months of worrying when that person would come, we trusted they would.
Then, finally, it happened. Princess received an adoption application on June 26th, 2022 from a potential adopter, Amy. We reviewed and approved the application as soon as possible and scheduled a time for Amy to meet Princess the same day. That very afternoon, after ten months of patiently waiting, Princess met her furever family.
They bonded within minutes. Princess, who was known to be selective about her human companions, was rubbing against Amy and her husband, purring, and soaking up all of their attention. Adoption meets don't always mirror the magical, love-at-first-sight moments that we see in the movies. In fact, these types of moments are more rare. But for Princess and her new family, it was undeniable sparks.
The magic continued when Princess moved into her new home as she adjusted far more quickly than most cats, especially for one who had lived in a shelter for ten months. Here is what Amy said:
"Princess is doing great, and she adjusted to our home immediately. She was truly meant to be our cat. I've said that's why she was with all of you for almost a year. She was just waiting for us. In the past four years, we went from a dog and two cats (one from the YCSPCA and one our son brought home from college) to no pets. Both of our cats passed unexpectedly, and then our 15-year-old Schnoodle (from the YCSPCA) passed last July after battling cancer. My husband and I agreed to give ourselves a year to grieve, then we'd consider another pet. 

At the end of June, I was scrolling through Facebook and saw an adorable black and white cat named Princess. We jokingly call our daughter Princess, so it made me smile when I saw her name. I also am partial to black and white cats. Something told me I need to fill out an application and, if it's meant to be, it'll be. 

The next day I got a call that we were approved.  We met her that day and immediately fell in love with her, and the rest is history! 

After being with us for two weeks, my husband said it seemed like she'd been here at least a month because she was already so well adjusted and in a great routine. She loves her treats, her toys, her tunnel, and her multiple beds!  She watches TV with us every night and even cuddles with us on her terms!

We couldn't have asked for a more perfect furry family member!"
We are tremendously thankful to Amy and her husband for welcoming Princess into their family. From love at first sight to happily ever after, this was truly the fairytale ending that Princess deserves.