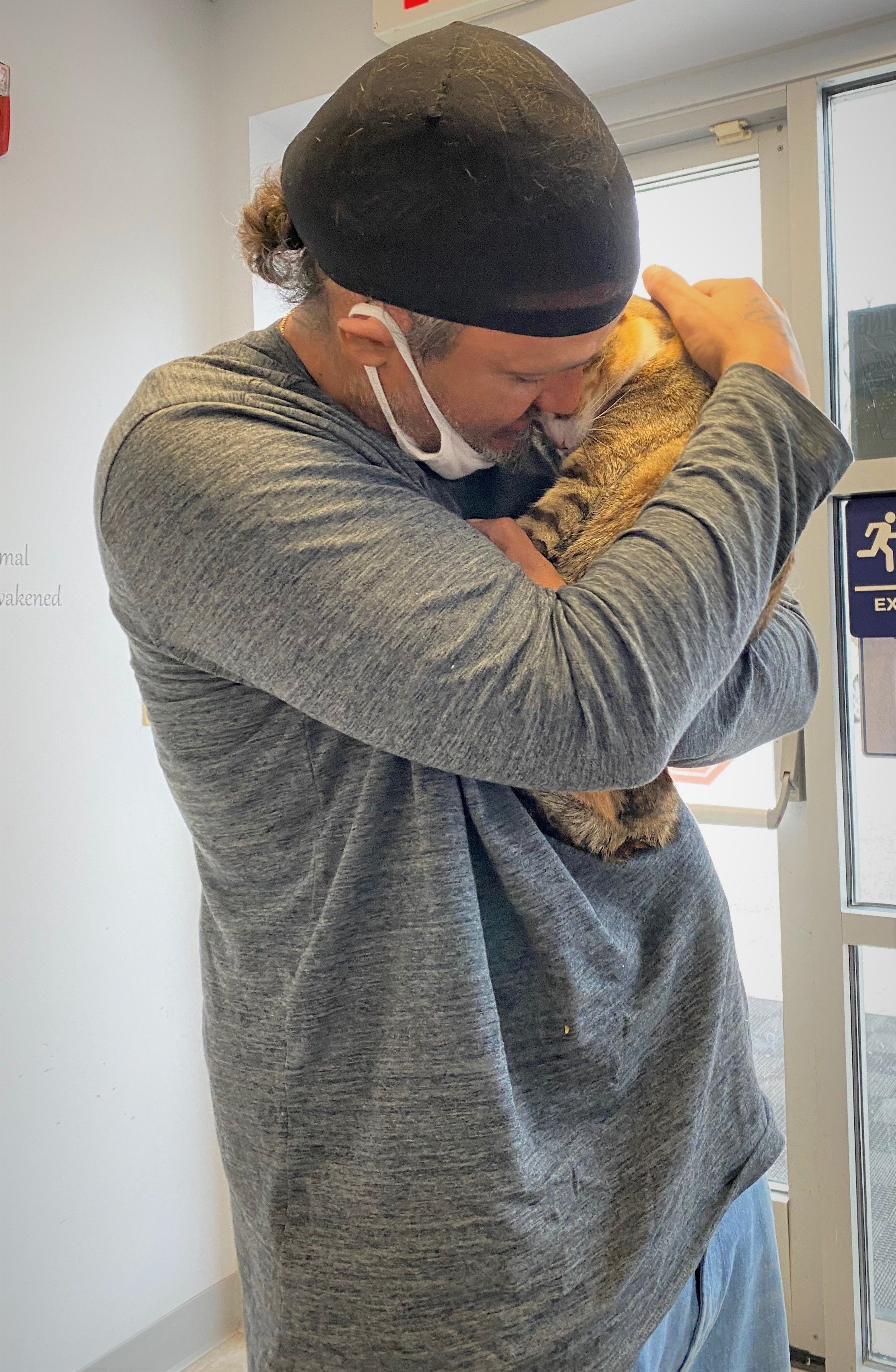 More than 150 cats come through the York County SPCA Spay/Neuter Clinic each week. And our Clinic Medical Director, Dr. Kimberly Mann, spays at least 15-20 cats every day. For her, spaying a cat is routine as brushing her teeth. But one particular brown tabby who landed on her surgery table recently was anything but routine. This little lady was already spayed.
She had been brought to the clinic by a trapper through our trap-neuter-return (TNR) program, a low-cost way to spay and neuter healthy, free-roaming community cats. Since the cat was living outside and showed no signs of ownership, this caring trapper assumed the sweet brown tabby was a community cat and brought her to the YCSPCA Spay/Neuter Clinic.
But once the brown tabby was sedated, the clinic staff realized that this cat was, in fact, already altered. They also noticed that the cat was not ear-tipped. It is common practice to tip the left ear of a community cat who has been altered. The fact that this "community cat" was spayed but not ear tipped triggered a protocol that led the clinic veterinary staff to scan the cat for a microchip. They found one immediately.
When our Veterinary Operations Manager, Amy Gauer, reached out to the microchip company, she was given the cat owner's information, the primary and alternative contact numbers, and the cat's name - Lucy. First, Amy tried calling the primary contact, but the phone number was no longer valid. Then, she called the alternative contact and left a voicemail. The next day, the alternative contact called back, and Amy explained the situation. Unfortunately, that person was unable to come claim Lucy, but they would be able to contact the owner…who lived in Missouri, some 900 miles away.
Very soon after Amy hung up, Lucy's owner called the clinic in a state of shock, excitement, and the can't-wait-another-second kind of eagerness. He explained that he had been moving from Pennsylvania to Missouri and the process had caused stress for his two cats. One of the cats had learned how to open the door and, one day, opened the door for Lucy to slip out.
This happened two months ago. 
Lucy's owner had done everything in his power to find her, posting to websites and social media, hanging flyers, checking local shelters and animal hospitals, and alerting neighbors. Lucy never showed up. When the time came for him to leave Pennsylvania for Missouri, with a broken heart, he had to leave without her.
After weeks of grieving, Lucy's dad began to accept that he would never see her again. A month went by, and he was getting used to life in Missouri but still devastated over losing his beloved companion. After two months, he believed he would never see her again. Still, he could not let go of her favorite blanket or favorite food. He could not part with the last drop of hope. He held onto these things through a 900-mile move and two months in a new city.
Then, he got the call. As Lucy hung out in the York County SPCA Spay/Neuter Clinic, her dad was in disbelief hearing that she was found and safe. As soon as he left work, he began driving to Pennsylvania. And he did not stop for 900 miles. Lucy's dad drove from St. Louis, Missouri to York, Pennsylvania in one straight shot, arriving at the clinic the next afternoon. He traversed five states in 24 hours to get her back. 
When he arrived at the shelter, he held a carrier lined with her favorite blanket and a bowl of her favorite food. As Amy walked out with Lucy, his heart melted, as did everyone watching. He instinctively reached out his arms and beelined to the love who had been missing from his life for two months. He scooped Lucy into his arms and she immediately nuzzled into her dad's neck like it was her favorite place in the world, like she was finally home. 
After many tears and many hugs, Lucy's dad tucked her into her blanket. He thanked the clinic staff endlessly, but they were thankful to witness such a pure act of love, sincere evidence that there is truly no place like home.